Dar es Salaam marks 16 Days of Activism
25TH November, International Day for the Elimination of Violence against Women, marked the start of the international campaign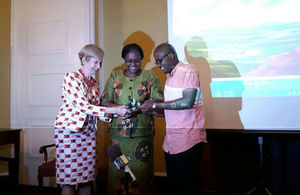 25TH November, International Day for the Elimination of Violence against Women, marked the start of the international campaign, 16 Days of Activism Against Gender Violence, which ends on 10 December with Human Rights Day The FCO's theme for the 16 Days is focussed on the Preventing Sexual Violence Initiative (PSVI). Ending violence against women and girls is a priority for the UK at home and overseas. Around the world 35% of women and girls experience some form of physical or sexual violence during their lifetime.
More than 700 million women alive today were married as children. 250 million of them were married before the age of 15 and it is estimated that, worldwide, over 130 million women and girls have been subjected to female genital mutilation (FGM). Everyday thousands of women, men and children are subjected to rape and sexual violence in conflicts around the world.
In Tanzania around 15% of all women aged between 15 and 49 will have undergone FGM. FGM is one of the most extreme manifestations of gender inequality; it is illegal in Tanzania and is punishable for between 5-15 years in prison for those carrying out the practice.
Ahead of the start of the 16 Days, the British High Commission in Dar es Salaam launched an animated short film on the issue of female genital mutilation (FGM). The film based on true Story of Ghati and Rhobi, is an inspirational story about two girls (Ghati and Rhobi) resisting their community's practice of FGM. They show courage by saying no to a practice that they heard would be painful and that some girls die from. With the help of community elders, they change the way their community treats a girl's transition into womanhood by ending the practice.
Both a Swahili and English version of the film have been developed for use in Tanzania and other Swahili speaking East African countries. The short animated film is designed to convey the power of individuals and communities to be proactive in combating harmful practices such as FGM and it offers hope that FGM will end in Tanzania. The film was developed by FORWARD and Animage Films in partnership with Children's Dignity Forum (CDF).
Published 3 December 2015