News story
Dangerous occurrence at Broad Oak level crossing
Train passed over Broad Oak automatic half barrier level crossing, with barriers raised, near Canterbury, 29 June 2017.
This news article was withdrawn on
This item has been moved to the National Archives as RAIB has published its safety digest describing this incident. See safety digest 13/2017.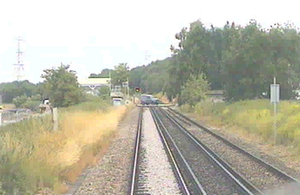 At around 10:20 hrs on 29 June, a train, already braking because the driver had recognized the hazard, passed over the level crossing with the barriers raised. The last road vehicle had crossed around 12 seconds earlier.
We have undertaken a preliminary examination into the circumstances surrounding this incident. Having assessed the evidence which has been gathered to date, we have decided to publish a safety digest.
The safety digest will shortly be made available on our website.
Published 20 July 2017