News story
Dan Labbad to be co-Chair of the new Green Construction Board
Mr Labbad, an experienced property and construction executive, who is currently Chief Executive Officer - Europe, Middle East & Africa for Lend…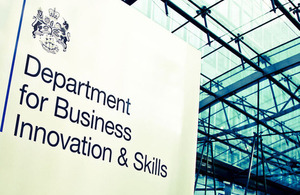 Mr Labbad, an experienced property and construction executive, who is currently Chief Executive Officer - Europe, Middle East & Africa for Lend Lease, will take up his position immediately and will sit alongside Mr Prisk, who is also co-Chair.
The Green Construction Board will allow Government and the UK construction industry to work closely together to develop and put in place a long-term strategic framework for the promotion of innovation and sustainable growth in the industry.
Business Minister and co-Chair of the Green Construction Board Mark Prisk said:
"Greening the property and construction sector is a great challenge and a massive opportunity. By greening their own operations, pulling green practices through their supply chains and providing better, greener, buildings and infrastructure, we can not only make the transition to a greener economy but seize an opportunity for growth at the same time.
"That's why I'm so pleased that Dan Labbad has agreed to be my co-Chair on the Green Construction Board. I know that Dan's extensive experience and leadership will mean that the Board can make the most of the opportunities over the weeks and months ahead. That way we can push for growth in the sector and make Britain a world leader in green construction."
Dan Labbad, Chief Executive Officer - EMEA, Lend Lease and Co-Chair of the Green Construction Board said:
"This is a unique and important opportunity for the private sector to work in partnership with Government to provide direction for the green transformation of our sector.
"The group will work to create a platform for investment and innovation and to help leverage the commercial opportunity that the green agenda presents. I am looking forward to working alongside Mark to help make this collaboration a success."
The Green Construction Board will hold its first meeting later in the Autumn where it will finalise its membership and set out terms of reference.
Notes to editors
---
Dan began his career in 1993 with John Holland as a site engineer in Sydney. He joined Lend Lease in 1997 and has undertaken various projects and corporate roles across the group. Prior to his current role, Dan was the Chief Executive Officer of Lend Lease in Europe with responsibility for the investment and development business. Dan holds a Bachelor of Civil Engineering (1st Class Honours) from the University of Technology, Sydney and a Master of Business Administration (MBA) from the University of NSW, Australian Graduate School of Management (AGSM). Dan is also Chair of the UK Green Building Council and member of the Green Economy Council.

The Green Construction Board was announced on 22 June 2011 as part of the Government's response to the low carbon Construction Innovation and Growth Team Report.

The membership of the GCB will represent both Government and industry and will be jointly co-chaired. The Minister for Business and Enterprise, Mark Prisk MP, will act as the Government co-chair. DECC, Defra, DCLG, Cabinet Office and BIS will be the key Departments represented on the Group.
Contacts
Nick Evans at the Department for Business, Innovation and Skills 0207 215 3496/ nick.evans@bis.gsi.gov.uk
Paul Browne at Lend Lease 020 3430 9769 / paul.browne@lendlease.com
BIS's online newsroom contains the latest press notices, speeches, as well as video and images for download. It also features an up to date list of BIS press office contacts. See [http://www.bis.gov.uk/newsroom](http://www.bis.gov.uk/newsroom) for more information.
Notes to Editors
Contact Information
Name BIS Press Office Job Title
Division COI Phone
Fax
Mobile
Email NDS.BIS@coi.gsi.gov.uk
Name Nick Evans Job Title
Division Department for Business, Innovation and Skills Phone 020 7215 3496 Fax
Mobile
Published 29 September 2011