Dame Clare Tickell responds to inaccurate reports about her review of the EYFS
Dame Clare Tickell writes to the Times Educational Supplement about her independent review of the early years foundation stage.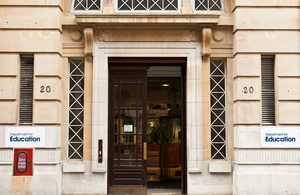 Commenting on the Times Educational Supplement front page today (1 April 2011) on phonics, Dame Clare Tickell said:
I have not recommended that phonics should be downgraded. Phonics is one of the most robust and recognised ways of helping children to learn to read and write. My report clearly highlights the importance of children starting school ready and able to learn, and I set out in the reading and writing goals the phonic development children should have reached by the age of five. The fact there is no longer a separate section labelled 'linking sounds and letters' does not mean I have deprioritised phonics - merging this section into 'reading' and 'writing' is one of the ways I have slimmed down and simplified the EYFS.
A Department for Education spokesman said:
There is compelling and comprehensive international evidence that systematic synthetic phonics is the best method for teaching reading. That's why we are going to give every school support and training to teach it - and introduce a simple reading check at age six to guarantee children have based the basic skills of early reading. Test pre-trialling has been popular and successful with schools - and we are launching a full pilot later this year.
The Tickell Review - The Early Years: Foundations For Life, Health and Learning was published on 29 March 2011 and the report can be downloaded from the publications section of the website.
Importance of Teaching White Paper was published on 24 November 2011 - it set out a clear position on the teaching of systematic synthetic phonics, please see page 43 of the White Paper which is available online.
DfE enquiries
Central newsdesk - for journalists 020 7783 8300
General enquiries - for members of the public 0370 000 2288
Published 1 April 2011