Dairy industry skills given funding boost
£176,000 will be invested in the dairy industry's first Continuous Professional Development (CPD) scheme.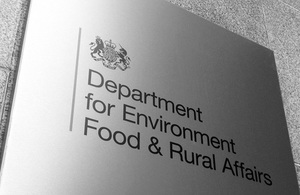 Funding to help boost skills in the dairy industry was announced by Agriculture Minister Jim Paice today at the Dairy Event and Livestock Show at the Birmingham NEC.
In its first year it will set standards for attaining a specific level of knowledge and skills before rolling these out to more than 1,000 dairy farmers and workers over the following two years. The scheme will become self sustaining by 2015.
Jim Paice said: "Britain has the ideal natural conditions for dairy farming. The industry itself has identified how skills could be improved and I hope that some of the next generation of proud dairy farmers will benefit from this scheme."
The training will be coordinated by DairyCo and will promote increased domestic agricultural production by improving efficiency.
Tim Bennett, chairman of DairyCo said: "Today's dairy farmers need an increasing armoury of skills and breadth of knowledge. We're delighted to receive this funding which will support the industry development of a CPD programme to identify and improve these skills, as well as setting a recognised standard."
Whilst at the event, the Minister also highlighted the other work that Defra is doing to support the dairy industry. But he stressed that the future prosperity of the industry lies in its own hands.
Jim Paice continued: "We are doing what we can to help the industry by tackling bTB, investing millions into research on dairy, looking at ways to reduce regulation and supporting industry with the Dairy 2020 project. We want to see the whole dairy supply chain being able to grow domestic markets and explore new export markets."
Notes
This funding award aligns with Defra's business plan by supporting and developing sustainable British farming.
The funds were available following the dissolution of the Residuary Milk Marketing Board in 2002 and will be bolstered by further DairyCo funds. The award follows the selection of DairyCo's proposal after a consultation earlier this year asked for different ideas on where this money would best be allocated. Details of this consultation can be seen here: http://www.defra.gov.uk/consult/2011/03/01/rmmb-1103/
DairyCo has already run a feasibility study that has examined the available training to milk producers and looked at successful CPD schemes used in other areas of the agricultural industry. More information on DairyCo can be seen here: http://www.dairyco.org.uk.
Published 6 September 2011