News story
Cutting red tape will save homeowners £240 on DIY electrical jobs, says Don Foster
Government moves to scrap the requirement to get simple and low risk electrical works approved will save money for householders.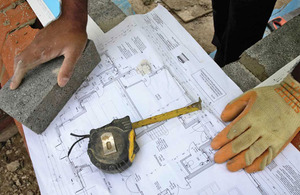 Government moves to scrap the requirement for householders to get simple and low risk electrical works approved by their local council will save 'DIYers' £240 each, and in some cases even more.
Introduced just before Christmas, these changes will come into force in April 2013 and will avoid the need for householders to seek council approval for simple jobs such as:
adding a socket to a kitchen, and
installing a new security light or a lawnmower socket in the garden.
Under current rules obtaining council approval for such jobs costs around £240 each time, or more.
Riskier jobs such as work near baths and showers, installing new circuits and house rewires will continue to require approval from councils' building control departments or be carried out by an electrician registered to approve their own work.
Communities Minister Don Foster said:
"Lots of people will have made it a new year resolution to fix or improve their home's electrics, but they are often put off by the bureaucratic costs. I am cutting red tape to allow people to get on with making simple and safe improvements without having to spend hundreds of pounds on getting the council's approval. Safety is the number one concern though and riskier jobs will always need to be signed off."
Mr Foster also urged people to stay safe and continue using common sense saying:
"I urge anyone who is either inexperienced at DIY or in doubt as to what they are doing to always consult a professional. Using a competent electrician is the simplest way to ensure you and your family remain safe. That's why I'll be working with industry and others to see what more we can do to get this simple message across."
Mr Foster also acknowledged that many people - mainly married men like him - were going to lose an excuse for not getting on with their list of jobs around the home.
The changes are part of a package of measures to clarify and update the building regulations that will also save businesses £50 million a year. Taking over 400,000 electrical jobs out of the system annually contributes to savings to electrical firms of around £14 million per year.
Notes to editors
The changes to electrical safety were included in a package of deregulatory measures announced to Parliament on 18 December 2012.

A consultation in January 2012 sought views on electrical safety.

The deregulation package also delivers other savings to business including:
bringing together currently separate guidance on how to design stairs and ramps so they are both safe and accessible - saving £4.4 million

updating fire safety guidance for lighting diffusers - saving £26.3 million

making the building control system more efficient and to extending the scope of competent person schemes - saving £6 million.
Published 2 January 2013