Press release
Cut-off Channel access bridges work in Norfolk and Suffolk
The Environment Agency is refurbishing seven access track bridges spanning the Cut-Off Channel.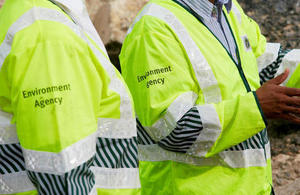 Work starts mid July on bridges from Feltwell, Norfolk in the north to Lakenheath, Suffolk in the south.
The Environment Agency owns the bridges and has a legal responsibility to ensure they are maintained in a safe condition.
The bridges will be strengthened to accommodate current traffic and loading requirements; and to ensure the health & safety of the general public and all bridge users including local farmers and Environment Agency staff who use the bridges as part of their normal daily operations.
Each bridge will need to be closed for approximately 8 weeks while work is carried out to remove existing surfacing, construct reinforced concrete beams along both edges of the bridge, install safety fencing, and resurface. A sign-posted diversion route will be in place at bridges which carry a public right of way.
Contractor Jackson Hyder Ltd is refurbishing the bridges on behalf of the Environment Agency and is expected to complete them by March 2016.
Gerry Crasto, Project Manager for the Environment Agency said:
We recognise there will be some disturbance to the local community, however, we have been working closely with the main bridge users to minimise the impact of these works on their daily operations.

We have explained the need to undertake the work as soon as possible in order to ensure the health and safety of the general public using these bridges; and I would like to take this opportunity to thank the local community for the cooperation and support we have received to date.
The proposed works will not impact navigation.
Permission has been obtained from the relevant authorities i.e. Norfolk and Suffolk County Councils. The local community, Natural England, Anglian Water and BT have all been consulted.
Programme of works
| | |
| --- | --- |
| Porter's Bridge | Jul 2015 |
| Sluice Drove Bridge | Sep 2015 |
| Caudle Bridge | Sep 2015 |
| Peacocks Bridge | Oct 2015 |
| Little Oulsham Bridge | Oct 2015 |
| Spencer's Bridge | Jan 2016 |
| Suffolk Bridge | Feb 2016 |
Every effort will be made to minimise the impact of the works on the general public, and contact details will be displayed at each bridge prior to, and during works to allow any queries to be addressed promptly.
Published 8 July 2015