World news story
Current Vacancies - Head of Corporate Services
The British Embassy in Rabat is recruiting Head of Corporate Services. All applicants are invited to send their CV/resume along with a covering letter by 24 June 2013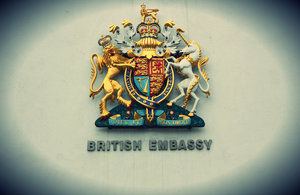 Are you an experienced manager, an innovative, energetic, self-starter? Do you thrive on challenge, have the drive and resilience to see a job through, and set and observe high standards of customer service?
If so, we are looking for a self-starting leader for our busy and dynamic Corporate Services Team at a time of rapid change. The successful candidate will be responsible for ensuring the team deliver effective management, finance, procurement, human resources and estate services to a Network of six posts in Morocco and Mauritania.
Background
The British Embassy in Rabat is part of a world-wide network of 230 Posts, representing British political, economic and consular interests overseas.
The Head of Corporate Services will report directly to the Deputy Head of Mission, and will serve as a key member of the Embassy senior management team and work with policy makers in London to implement new initiatives.
Main Duties and Responsibilities
Leadership and Management:
Demonstrate leadership within the network, promoting the FCO and Post values.
Ensure overall efficient and effective operation of corporate services work.
Within corporate services, identifying and mitigating risks to the Post and FCO.
Champion the Embassy's change agenda in order to modernise working practices; support staff during major periods of change.
Continuously review business policies and processes to identify new and more imaginative ways of working and deliver a more effective, efficient and professional operation.
Provide direction and motivation to the team to deliver a high level service to all customers and stakeholders.
Participate in and provide input into internal committees focused on policy development and wider organizational issues – both with local colleagues as well as counterparts in London.
Liaise with locally-employed staff representatives
Line manage three senior managers in the Corporate Services Team, the Finance Manager, HR/Estates Manager and IT/Transport Manager.
Finance:
Manage the Embassy's budget in accordance with corporate policies to ensure on-budget expenditure and value for money.
Prepare monthly, annual and ad hoc reports to senior managers on budget management, including budget projections and spending to date.
Oversee accounts to ensure proper financial controls are in place and being followed.
Coordinate requests for additional budget funds or refund of surplus funds to/from London central Finance team.
Review and authorize expenditures.
Coordinate accounting and finance services to Partners Across Government.
Procurement:
Implement and develop existing corporate policies and best practices on Procurement, ensuring maximum value for money.
Oversee management of external contracts with local suppliers and vendors as necessary.
Human Resources:
Oversee terms and conditions of service for locally-employed staff and ensure compliance with local labour law and FCO values.
Drive improvements to the Human Resources policies and processes for the Embassy as necessary.
Provide expertise on recruitment, compensation, and performance pay processes as needed; review and authorise local employment offers.
Coordinate training with Regional Training Centre.
Provide guidance on sensitive staff matters for both diplomatic and locally employed staff, including management issues and dispute resolution.
Ensure locally-employed staff pay scales and performance related bonuses are reviewed regularly and fairly. Ensure expenditure on pay remains within budget allocation.
Estates:
Oversee estate management, ensuring the office, residential properties and official vehicles are fully operational as required, underpinned by an on-going proactive maintenance schedule and value for money.
Ensure full compliance with corporate procedures, including local and UK health and safety regulations and policies.
Ensure environmental/sustainability methodologies are integrated into the Embassy.
Other tasks:
Other duties as assigned.
Skills Required:
Excellent interpersonal and communication skills with a strong customer focus
Ability to work with contacts and colleagues at all levels
Personal drive and the ability to be a self-starter as well as a team player
Strong organizational, analytical and time management skills, with very good attention to detail
Flexible, resilient under pressure and decisive with a proven track record of delivering results to a high standard within tight deadlines.
Ability to travel occasionally within the region or internationally as needed (approximately 5% of the time)
Willingness to work additional hours as necessary.
Expected Qualifications:
Essential
At least 5 years professional experience in a managerial capacity including managing staff.
Fluent in English, orally and in writing (IELTS level 7 or equivalent).
Strong IT computer skills using Microsoft Word, Excel, PowerPoint, Outlook, Internet.
Fluency in either French or Arabic.
Desirable
A college/university level degree or recognised professional qualification in HR management, finance or other relevant area.
Background in accounting, finance, budgets, human resources or estates.
Knowledge of MS Project.
Experience with Oracle based systems and databases.
The British Embassy offers a competitive remuneration package, including salary, benefits, a leave entitlement and training package. Specific training and mentoring for the role will be provided for the successful candidate. This may include training in London and the region. The successful candidate is expected to commence employment by mid August 2013.
The successful candidate will be subject to confirmation of a background and security clearance.
To Apply
Please send your CV/resume along with a covering letter (no more than two sides of A4) explaining why you are suitable for the position by 24 June 2013 to Recruitment.HCS.Rabat@fco.gov.uk or British Embassy (HCS vacancy), 28 Avenue SAR Sidi Mohamed, Souissi, Rabat. Only those candidates who are successful in the initial sift of applications will be contacted and invited to attend an interview and practical tests.
The British Embassy is an equal opportunities employer. Our officers are recruited on merit through fair and open competition. We seek our strength through diversity and appoint suitably qualified individuals regardless of ethnicity, religion, sexual orientation, gender, social background age or disability.
Published 5 June 2013