Curfews extended in tougher community sentences
Offenders will be forced to spend longer at home as daily curfews are extended from 12 to 16 hours, part of tougher community sentences.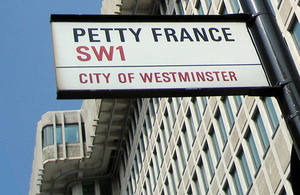 The period for which curfews can be imposed will also be extended from 6 to 12 months, to protect communities and ensure offenders face meaningful punishments that help stop them reoffending.Curfews not only restrict liberty but they can help bring order to chaotic lives.
These new proposals are part of the Government's plans to reform sentencing and tackle the root causes of offending.
Keeping communities safe
Prisons and Probation Crispin Blunt said: 'These tougher curfew conditions will keep offenders off the street for longer, stop them socialising in the evenings and keep them away from situations that could land them in trouble again.
'This is part of our proposals to reform the Criminal Justice System and will help to keep communities safe whilst important work is done with offenders to turn them away from a life of crime.'
The proposals will also allow courts to vary curfew hours from day to day, for example during the week and at weekends.
About 24,000 individuals are being electronically monitored at any one time. If an offender breaches the terms of their curfew, he or she can be sent back to court for further punishment.
Offender Stephen Sheenan, 24, said having to keep to a curfew actually helped him: 'The curfew has actually meant that I've been able to change my life around. It was easy to keep to as I was always able to get home for 7pm and this allowed me to sort my life out.'
He added: 'It gives you the opportunity to see what you have done, and as you are restricted to what you can do, it allows you to understand that you are being punished.'
Read the full press release.
Published 8 August 2011