Curfew and £13k penalties for illegal waste offender
A Derby man has been ordered to pay £13k for running a breaker's yard without a permit - putting the environment at risk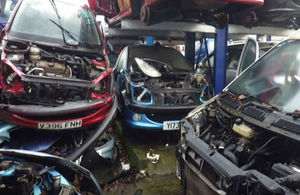 A 64-year-old man from Derby has been sentenced to a four-month curfew and ordered to pay more than £13,000 after pleading guilty to operating a breakers yard without a permit.
Tony Haywood of Waterford Drive, Chaddesden, admitted to illegally depolluting and dismantling end-of-life vehicles at a site on Shilo Way in Awsworth, Nottingham.
He was sentenced at Derby Magistrates Court on Thursday 10 January to a four-month community order with a curfew between the hours of 7pm and 7am. He was also ordered to pay £4,897 compensation to the Environment Agency, £8,175.48 in costs and an £85 victim surcharge.
The 'depollution' process involves stripping vehicles of the many hazardous components that have the potential to damage the environment, including oils, fuels, batteries, battery acid, coolants and anti-freeze.
It is a process that requires an Environmental Permit to ensure it is carried out in a way that protects the environment and public health. But Tony Haywood didn't have one.
Enquiries into Tony Haywood's activities began in June 2017, when he took over the running of the Shilo Way site from his son, Stuart Haywood, who was himself serving a 30-week custodial sentence for the same kind of illegal activities at the same location.
The district judge imposed a Remediation Order against Stuart Haywood, requiring all waste to be removed from the Shilo Way site and for no additional waste to be brought there.
Taking on the site, Stuart's father Tony Haywood, began by removing vehicles in an effort to comply with the Remediation Order. But between November 2017 and January 2018, he turned to depolluting and dismantling them. This was despite him understanding his obligation to get an Environmental Permit for the work – and receiving both advice and warnings from the Environment Agency.
During the hearing, Tony Haywood's ill health and lack of any convictions since 2001 were raised in mitigation. And he insisted he was only trying to comply with the Remediation Order.
Speaking after the case, the Environment Agency officer leading the investigation said:
Activities like this have the potential to harm the environment, blight communities and undermine legitimate businesses that do follow the rules. It's our role to protect the environment for people and wildlife and we won't hesitate to take action against those who put it at risk.
Notes:
Businesses that handle waste are subject to strict regulation and require a permit to operate under the Environmental Permitting (England and Wales) Regulations 2016 (EPR).

The Environment Agency's role under the EPR ensures waste operations do not pollute the environment or pose a risk to human health.

Offence: Between 20 November 2017 and 11 January 2018 Tony Haywood operated a regulated facility on land at Shilo Way, Awsworth, Nottingham, NG16 2BF which was not authorised by an environmental permit, namely a non-exempt waste operation involving the depollution and dismantling of end-of-life vehicles and the storage of waste, contrary to Regulation 12(1) and Regulation 38(1)(a) of the Environmental Permitting (England and Wales) Regulations 2016.

In the Magistrates Court, the offence carries a maximum penalty of an unlimited fine and six months' imprisonment. In the Crown Court, it carries a maximum penalty of an unlimited fine and five years' imprisonment.
Published 16 January 2019