Curbing compensation culture: Government to ban referral fees
Rising insurance costs will be tackled by a ban on referral fees, announced as part of Government's commitment to curb compensation culture.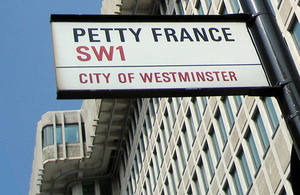 The Government will ban the payment of referral fees in personal injury cases. The current arrangements have led to high costs, encouraged a compensation culture and led to the growth of an industry which pursues claimants for profit. Insurance companies inevitably pass the costs they incur through increased compensation claims directly onto motorists and those with other insurance policies, unnecessarily forcing up the cost of living.
An example of a referral fee might be:
You have an accident and you are induced through a TV advert or SMS text message to make a 'no-win, no-fee' claim.
Your claim is passed between claims management companies (who advertise compensation claims for accidents), insurance companies, lawyers and others who charge each other a referral fee for 'referring' the claim up the line.
The lawyer sues for compensation. If he wins, he can recover his costs and his "no-win, no-fee" mark-up on his costs from the losing defendant (or often the defendant's insurance company) which will cover the amount he paid out as a referral fee. So the lawyer may pay hundreds of pounds as a referral fee because he knows he can get the money back.
To cover the loss, losing insurance companies are forced to raise premiums, private companies are forced to put up prices, and public authorities pass the burden on to the taxpayer.
Justice Minister Jonathan Djanogly said:
'The 'no-win, no-fee' system is pushing us into a compensation culture in which middle men make a tidy profit which the rest of us end up paying for through higher insurance premiums and higher prices. 'Honest motorists are seeing their premiums hiked up as insurance companies cover the increasing costs of more and more compensation claims. Many of the claims are spurious and only happen because the current system allows too many people to profit from minor accidents and incidents.
'Referral fees are one symptom of the compensation culture problem and too much money sloshing through the system. People are being encouraged to sue, at no risk to themselves, leaving schools, business and individuals living in fear of being dragged to the courts for simply going about daily life.
'We will ban referral fees and we will go further. We have proposals before Parliament to end the bizarre situation in which people have no stake in the legal costs their cases bring. This will make claimants think harder about whether to sue and give insurance companies and business generally an incentive to pass the savings onto customers through lower prices.'
The Government's proposals currently before Parliament focus on stopping losing defendants having to pay a 'success fee' to reimburse the claimant's lawyer for other unconnected cases he may have lost. The Government is changing the law so that in future the person making the claim will have to pay the success fee, rather than the defendant, and that fee will be capped. The intended result is a fairer split of costs between parties, and lower legal costs overall which means lower costs to pass on to customers or taxpayers.
The proposals follow a Ministry of Justice consultation published in November 2010. Much of the evidence base for this consultation came from an independent Review of Civil Litigation Costs carried out by a senior judge, Lord Justice Jackson, and commissioned by the Master of the Rolls.
Notes to Editors
Please note there is no universally recognised definition of 'referral fees'. Various agreements have been reported between many types of organisations including insurance companies, repair garages, emergency services and not all these agreements include actual fees. The scope of today's announcement of a ban will cover the payment of referral fees in personal injury cases.
The proposals before Parliament are contained in the Legal Aid, Sentencing and Punishment of Offenders Bill.
The Bill itself is published on the Parliament website - the relevant section is Part 2.
Lord Justice Jackson's Review of Civil Litigation Costs was published by the judiciary and is available via on the Judiciary website.
For more details, please contact Ministry of Justice press office on 020 3334 3536.
Published 9 September 2011