Press release
Culvert clearance to reduce flood risk
Environment Agency to remove blockages and silt from culverts reducing the risk of flooding to around 1,000 homes in the North East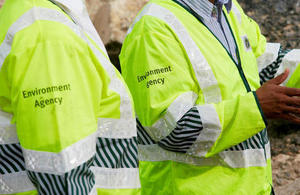 The Environment Agency is carrying out work to remove blockages and silt from culverts in a £475,000 project to reduce the risk of flooding to around 1,000 homes in the North East.
This month, silt will be removed from culverts at Chapel Beck in Guisborough, Cocker Beck in Darlington, and Loftus Beck in Loftus.
Environment Agency contractors will remove blockages and a build up of silt deposits, increasing the capacity of the culverts and reducing the risk of flooding.
The work started on January 18 and will be complete by the end of February.
In addition, further culvert cleaning and repairs to culverts will be carried out at:
Dene Beck, South Church, Durham
Woodlea, Forest Hall, North Tyneside
Alnmouth Terrace, Acomb, Northumberland
Smallhope Burn, Lanchester, Durham
West Beck, West Auckland, Darlington
This will start in February and be completed during April.
Silt enters rivers carried by run-off from fields and roads.
The Environment Agency's Steve Wilkinson said:
The build-up of silt in culverts reduces the capacity for water to pass through, particularly when it's needed most during a flood.

This in turn can raise water levels further upstream which can lead to flooding. As well as clearing silt, the work will see lodged debris in the culverts, such as logs and tyres, removed. This will reduce the risk of flooding to nearby homes and businesses.

The work, which is costing around £475,000, has been pre-planned since last year and will be completed in April.
Published 4 February 2016