Culture Secretary's Olympic tour heads to the West Midlands
Businesses Urged to Make the Most of 2012.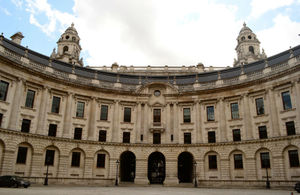 Businesses in the West Midlands were today urged to make the very most of the opportunity of the country hosting the Olympics and Paralympics, as Secretary of State for Culture, Olympics, Media and Sport Jeremy Hunt took his nationwide '2012 tour' to the county.
Mr Hunt also hosted a School Games summit in Worcester, where he joined Sport England for the announcement of £3million National Lottery investment in the Worcester Community Sports Arena and Dawley Sports and Learning Community.
2012 Summit
Addressing more than 100 hoteliers, businesses and tourism bodies from across the West Midlands at Birmingham's Hippodrome, the Secretary of State hailed the region's stunning natural beauty and great historical significance. He said there were big wins to be had in 2012 for the West Midlands, in particular its tourism industry.
He also revealed that the region would feature in major international and national marketing campaigns to promote UK tourism in 2012 and urged local tourism businesses to sign up to a new 20.12 per cent discount scheme.
The Birmingham event, which was organised by Marketing Birmingham and opened by Mike Whitby, Leader of Birmingham City Council, showcased the business, tourism, cultural and sporting opportunities that the Games bring. 
Other speakers included David Moorcroft (Chair of the West Midlands 2012 Steering Group), Bill Morris (Director of Culture, Ceremonies & Education, London 2012) and James Berresford (Chief Executive, VisitEngland).
Jeremy Hunt said: "Last year, 32.8 million visitors came to Birmingham alone, bringing £4.6 billion into the local economy. Next year, with the Games and our biggest-ever tourism marketing campaign we can do even better.  With the Torch Relay passing right through the area for seven days - including key landmarks like the Iron Bridge and the Black Country Living Museum - we have a once-in-a-generation chance to show the world the very best of the West Midlands. From world-beating attractions like Alton Towers to spectacular scenery like Ironbridge Gorge and fantastic historic sites like Warwick Castle, the West Midlands has it all - and we need to make sure the whole world knows."
VisitEngland's Chairman, Lady Cobham said: "I'm delighted to be here in the West Midlands with the Secretary of State, Jeremy Hunt.   This exciting tourism road- show launches England's most high profile campaign to boost domestic tourism, and is designed to highlight the fantastic experiences Britons can enjoy literally on their doorsteps.  2012 offers the tourism industry a number of unprecedented opportunities.  Not only will England be showcased to billions of people all over the world, but we have the opportunity to grow domestic tourism by inspiring Britons to rediscover England and take a holiday at home next year.  Spearheading the promotion will be a high profile TV campaign and specially devised discounted offers.   Our job as the national tourist board is to work with the industry to harness the pride we know is felt by local residents and to inspire them to act as ambassadors for their destinations for next year and beyond."
Mike Whitby, Leader of Birmingham City Council said: "The 2012 Olympic and Paralympic Games will provide unprecedented opportunities for Birmingham, the West Midlands and all of the United Kingdom - as well as London. As a City we have already worked hard to ensure the impact of the games are felt here through the hosting of the USA Track & Field Team and the Jamaica Track & Field Team. It's essential now that businesses take full advantage of the opportunities leveraged by the Games, to ensure that we maximise the economic and cultural impact of all this extra activity."
School Games Summit/£3million Investment in Sports Legacy
Mr Hunt also visited the University of Worcester with international 100 meter hurdler and 2012 hopeful Julz Adeniran, where they hosted a West Midlands summit on the new School Games competition. Using the inspiration of London's Olympics, the competition is helping to transform competitive sport in schools and get more young people playing sport.
 
Mr Hunt said: "The School Games will leave a real lasting legacy from London's Olympic and Paralympic Games.  They will transform sport in school, bringing back competition and getting rid of 'prizes for all'.  There is still time for schools to sign up for the competition, which will have its first finals in the Olympic Park next year."
While in Worcester, Mr Hunt announced that £3 million of National Lottery funding from Sport England's Iconic Facilities fund will help bring state-of-the-art community sports facilities to Worcester and Telford.
£1.5 million has been awarded to the University of Worcester to transform a derelict site into the Worcester Community Sports Arena, which will offer:
A new 12-court sports hall that will be a thriving sports hub for students, the local community and sports governing bodies
A welcoming home for local sports clubs in basketball, netball, badminton, wheelchair basketball, wheelchair fencing and blind football
A centre of excellence for disability sport
Dawley Sports and Learning Community, will also receive £1.5 million to help bring to life Telford and Wrekin Council's vision for:
A new eight-court sports hall, health and fitness suite and national standard BMX outdoor track
A new artificial grass pitch and high-quality grass sports pitches
A major regional base for cycling, rugby league and table tennis.
Co-location of sport with education and health services and improved school and club links.
Mr Hunt added: "This £3 million investment will transform community sport in Worcester and Telford, helping to create a lasting sporting legacy from London's Olympic and Paralympic Games.  Sport England's Places People Play programme is a fantastic programme, bringing the magic of a home Olympic Games into communities across the country."
Jennie Price, Sport England Chief Executive, said: "From sporting beginners to experts, everyone in the Telford and Worcester areas can now look forward to playing sport in world-class facilities. This is an inspirational legacy that will improve lives in these communities for generations after the London 2012 Olympic and Paralympic Games."
Notes to editors
More information about London 2012 is available at the DCMS website and the London 2012 website.

The GREAT initiative is an international campaign to maximise the tourism and business opportunities of the UK hosting the 2012 Games.

Mr Hunt is making a series of visits around the country to promote the opportunities of 2012.  He visited Cumbria on 9 November, Nottingham on 16 November and the South West on 18 November.  Other provisional dates are:

1 December: East of England (Norwich)
2 December: South East (Canterbury)
16 December: North East (Gateshead) (tbc)
12 January: North West (Manchester) tbc)
18 January: Yorkshire & Humber (York)
20 January:  London (tbc)
Scotland, Northern Ireland and Wales to be confirmed

The event at the Hippodrome was being organised by Marketing Birmingham. For further information contact Jo Lumani, 0121 202 5072/ 07833 247629/ Jo.Lumani@marketingbirmingham.com.

For further information about Visit England contact Sarah Long on 0207 578 1452/ sarah.long@visitengland.org.

London 2012 hopeful Julz Adeniran is a 110m hurdler who has competed internationally for Britain.  With a personal best time of 13.72 seconds, he is now concentrating on qualifying for the London 2012 Olympic Game. Birmingham-born Julz is a law graduate from the University of Birmingham.

The School Games is a new school sport competition, using the inspiration of London's Olympics and Paralympics to help transform competitive sport in schools and get more young people playing sport.  Open to all schools, there are three levels of competition (class versus class, school versus school and then county or city wide sports festivals) leading up to the showcase final on the Olympic Park. The School Games will continue after 2012 and the ambition is for the finals to be held in the Olympic Park at regular intervals. Schools have until the end of this year to sign up.  Further information about the school games is available at the Your School Games website.

For further information about Sport England's Iconic Facilities programme contact Peter Dickenson 020 7273 1800/07977 558 775/ peter.dickinson@sportengland.org.

West Midlands '2012' factsheet (PDF64kb).
Press Enquiries: 020 7211 2210
Out of hours telephone pager no: 07699 751153
Public Enquiries: 020 7211 6000
Published 25 November 2011