News story
Culture Secretary writes a Letter to an Unknown Soldier
Part of a nation wide arts project to commemorate the start of the First World War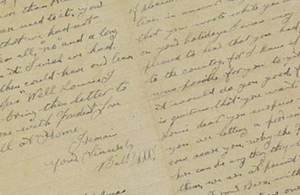 Culture Secretary, Sajid Javid, along with more than 3,000 others, has written a Letter to an Unknown Soldier as part of an arts project to commemorate the start of the First World War.
The project, run by 14-18 Now, asks as many people as possible to send a personal message to one of the men who served and was killed during World War One.
Schools and community groups, as well as individuals, have already written letters and their thoughts are part of an online exhibition. Letters are also featured from established writers including A.L Kennedy, Sheila Hancock, Andy McNab and Caryl Churchill.
It's not too late to write your letter – the project runs until 4th August at 11pm: the centenary of the moment when Prime Minister Asquith announced to the House of Commons that Britain had joined the First World War.
Published 27 June 2014