Culture Secretary's Olympic tour heads to the South East
Businesses Urged to Make the Most of 2012, 10,000 schools Sign-Up for New Sports Competition, £50k for Gravesend Cricket Scheme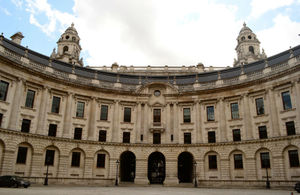 Businesses in the South East were today urged to make the very most of the opportunity of the country hosting the Olympics and Paralympics, as Secretary of State for Culture, Olympics, Media and Sport Jeremy Hunt took his nationwide '2012 tour' to the region.
Mr Hunt also hosted a School Games summit, where he was joined by Seb Coe, Chair of the London 2012 Organising Committee (LOCOG), to announce that more than 10,000 schools have signed up to the new School Games competition which will see the first finals being hosted in the Olympic Park next May.
2012 Summit
Addressing more than 150 hoteliers, businesses and tourism bodies from across the South East at Canterbury Cathedral, the Secretary of State hailed the region's stunning natural beauty and great historical significance. He said there were big wins to be had in 2012 for the South East, in particular its tourism industry.
He also revealed that the region would feature in major international and national marketing campaigns to promote UK tourism in 2012 and urged local tourism businesses to sign up to a new 20.12 per cent discount scheme.
The tourism summit, which was organised by Visit Kent and opened by Amanda Cottrell OBE, Chairperson of Visit Kent, showcased the business, tourism, cultural and sporting opportunities that the Games bring. The event also saw cultural performance from dance group Deaf Men Dancing with disabled visual artist Rachel Gadsden to mark the United Nations International Day of Persons with Disabilities (3 December) and their involvement with the Cultural Olympiad.
Jeremy Hunt said:
"The tourism industry in the South East brings in more than £12 billion per year to the South East's economy, which is one of the biggest tourism regions outside London. Next year, with the Games and our biggest-ever tourism marketing campaign we can do even better.  With the Torch Relay passing right through the area for ten days - including key landmarks like Bletchley Park in Milton Keynes and Battle Abbey in East Sussex - we have a once-in-a-generation opportunity to show the world the very best of the South East. The region has so much to offer, with famous historical sites such as Canterbury Cathedral, and we need to make sure the whole world knows."
Amanda Cottrell, chairman of VisitEngland, said:
"We are delighted to welcome the Culture Secretary to the South East and most particularly to the iconic destination of Canterbury in Kent which, with its cross Channel links and routes to London, will literally be the Gateway to the Games in 2012.
"Visit Kent and all our tourism colleagues across the South East have warmly welcomed the Government's recognition of the importance of tourism as a job creator and a key sector to drive economic growth. And it is very pleasing to welcome the Whitehall team to a county that has demonstrated for the past ten years the success of public/private partnerships in creating and sustaining the conditions in which our tourism can flourish.
"We are now well prepared to showcase the Garden of England to visitors from home and overseas during all the excitement of the Games and the Cultural Olympiad and deliver a lasting legacy for the South East."
VisitEngland CEO, James Berresford said:
"I'm delighted to be here in Canterbury to take part in this exciting initiative to launch England's most high profile campaign to boost domestic tourism. The campaign is designed to highlight the fantastic experiences Britons can enjoy literally on their doorsteps. 2012 offers the tourism industry a number of unprecedented opportunities.  Not only will England be showcased to billions of people all over the world, but we have the opportunity to grow domestic tourism by inspiring Britons to rediscover England and take a holiday at home next year. Spear-heading the promotion will be a high profile TV campaign and specially devised discounted offers. Our job as the national tourist board is to work with the industry to harness the pride we know is felt by local residents and to inspire them to act as ambassadors for their destinations for next year and beyond."
Oona Muirhead, London 2012 Nations and Regions Group Member for the South East and Chair of the South East Partnership said:
"The Partnership in the South East has already secured a huge legacy for the region as a result of the London 2012 Olympic and Paralympic Games being hosted in London.  Our businesses have won over 1000 contracts that are worth more than £1bn to the economy.  We have 3 official Olympic and Paralympic Venues, and 30 training camp agreements in place - each of these bring in revenue to the local area as well as showcasing elite sport and engaging with local communities.  We are also delighted that the Olympic Torch Relay will spend so much time in the region and that the Paralympic Torch will be celebrated in such a spectacular way at Stoke Mandeville Stadium.  All this gives our communities a great chance to be directly involved in the London 2012 Games!"
School Games Summit/10,000 schools signed up to legacy competition
Mr Hunt also visited Medway Park, Gillingham along with Seb Coe and World Champion sailor Sam Breary, where he hosted a South East summit on the new School Games competition. Using the inspiration of London's Olympics, the competition is helping to transform competitive sport in schools and get more young people playing sport.
While at the sports centre, Mr Hunt also announced that more than 10,000 schools have now signed up to the competition.
Mr Hunt said:
"The School Games will leave a real lasting legacy from London's Olympic and Paralympic Games.  They will transform sport in school, bringing back competition and getting rid of 'prizes for all'.  It is fantastic news that we have hit the 10,000 mark, and there is still time for even more schools to sign up."
Seb Coe, Chair of the London 2012 Organising Committee (LOCOG), said:
"The Schools Games is a fantastic opportunity for young people to be inspired by sport ahead of the London 2012 Olympic Games and Paralympic Games. It is great to see so many schools already signed-up and I look forward to seeing them achieving personal bests and cheering on their team mates in the Olympic Park venues next year."
Sam Brearey, Sporting Champion and Sailor (Fireball Class) said:
"It's is fantastic to hear that over 10,000 schools have now signed up to the School Games. I'm really looking forward to supporting the competitions in the run up to 2012 and beyond. Many young people surprise themselves when they take up a new sport or compete in a new activity for the first time. There will be opportunities to take part in team sports and individual sports. My advice for youngsters is to try something and stick at it…just imagine what it would be like to make it into the Olympic Park as a School Games finalist!"
Mr Hunt also today presented Gravesend Cricket Club with a cheque for £43,214 to develop their facilities. The grant has been made by Sport England under their Inspired Facilities scheme.
Announcing the grant Sport England's Chair, Richard Lewis, said:
"For hundreds of clubs and tens of thousands of people, 2012 will be the year their local sports facilities got better. This fund has really hit the mark with sports clubs, like Gravesend Cricket Club. It shows we're offering the sporting legacy that people want and that our work to simplify the application process has paid off."
Notes to Editors
More information about London 2012 is available at the DCMS website and the London 2012 website.

The GREAT initiative is an international campaign to maximise the tourism and business opportunities of the UK hosting the 2012 Games.

Mr Hunt is making a series of visits around the country to promote the opportunities of 2012.  He visited Cumbria on 9 November, Nottingham on 16 November, the South West on 18 November and Birmingham 23 November.  Other provisional dates are:
* 12 January: North West (Manchester) (tbc) 
* 18 January: Yorkshire & Humber (York) 
* 20 January:  London (tbc) 
* 26 January: North East Gateshead) (tbc) 
* Scotland, Northern Ireland and Wales to be confirmed  

The event at Canterbury Cathedral was being organised by Visit Kent.

For further information about VisitEngland contact Sarah Long on 0207 578 1452/ sarah.long@visitengland.org.

Deaf Men Dancing, formed in August 2010 is a dance group choreographed by Mark Smith. The production uses a fusion of different styles of dance incorporated with sign-language to create an expressionist work. Deaf Men Dancing are collaborating with Rachel Gadsden to create a new show inspired by the Paralympic Movement.

Futher information on the UN's International Day of Persons with Disabilities, taking place on 3 December.

The School Games is a new school sport competition, using the inspiration of London's Olympics and Paralympics to help transform competitive sport in schools and get more young people playing sport.  Open to all schools, there are three levels of competition (class versus class, school versus school and then county or city wide sports festivals) leading up to the showcase final on the Olympic Park. The School Games will continue after 2012 and the ambition is for the finals to be held in the Olympic Park at regular intervals. Schools have until the end of this year to sign up.  Further information about the school games is available at the Your school Games website.

Sam Breary is an international sailor. At the age of 22, he has already won 2 European titles in different classes of boat, he is a national champion, an Inland National Champion, is a World Championship Silver medallist and holds an un beaten British Sailing Record. He is a formerly funded Olympic Development Athlete, before postponing his Olympic aspirations to complete his sport science degree. Sam is now training hard ahead of the 2016 Olympic and Paralympic Games and has been shortlisted for Essex Sports Personality of the Year.

Inspired Facilities is part of the Places People Play _legacy programme. In total £50 million of National Lottery funding and £2 million of Exchequer funding will be invested through _Inspired Facilities. Sport England is focused on the delivery of a mass participation legacy from the 2012 Olympic and Paralympic Games. We invest National Lottery and Exchequer funding in organisations and projects that will grow and sustain participation in grassroots sport and create opportunities for people to excel at their chosen sport. Places People Play is the £135 million legacy programme that is bringing the inspiration and magic of a home Olympic and Paralympic Games into the heart of local communities, encouraging more people to get involved in sport. For more information please contact the press office: Peter Dickinson on 020 7273 1800.

South East 2012 factsheet (PDF 45kb)
Press Enquiries: 020 7211 2210
Out of hours telephone pager no: 07699 751153
Public Enquiries: 020 7211 6000
Published 2 December 2011