News story
Culture Secretary opens new British Fencing Elite Training Centre
John Whittingdale meets Team GB Fencers in their stunning new base backed by Sport England and UK Sport investment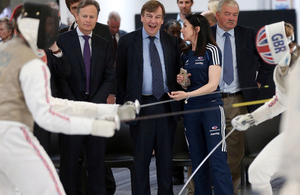 Culture Secretary John Whittingdale officially opened British Fencing's new Elite Training Centre and said that the facility will be a great boost for the sport.
Sport England and UK Sport have both invested in the centre in Hendon, North West London, that will help prepare Britain's best fencers for the forthcoming European Championships in Switzerland, World Championships in Russia and next year's Rio Olympic Games.
The grants have helped pay for a dedicated facility that as well as including training pistes (the strips where the fencers bout) boasts strength and conditioning facilities, a medical treatment room and office space for British Fencing coaches.
Mr Whittingdale said:
It was fantastic to meet some of our top fencers and see them in action as they prepare for next month's European Championships. These new facilities, funded by Sport England and UK Sport, are superb and a great boost for all at British Fencing.
Mr Whittingdale was shown around the facility by British Fencing Chairman David Teasdale and Chief Executive Officer Georgina Usher. British Fencing Performance Director Alex Newton also talked through a training bout where athletes were put through their paces.
Mr Whittingdale chatted with athletes on British Fencing's World Class programme including Marcus Mepstead and Natalia Sheppard.
Published 28 May 2015