Culture Secretary Jeremy Hunt: London to reap tourism boost from Olympic and Paralympic Games
Businesses are urged to make the most of 2012 as VisitEngland campaign gathers pace.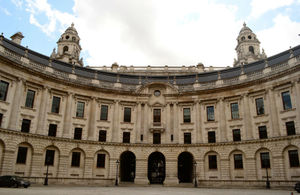 Businesses in London were today urged to make the very most of the opportunity of the country hosting the Olympic and Paralympic Games, as Secretary of State for Culture, Olympics, Media and Sport Jeremy Hunt continued his nationwide '2012 tour' at the British Museum.
Addressing more than 200 hoteliers, businesses and tourism bodies from across the capital, the Culture Secretary revealed London will feature in major international and national marketing campaigns to promote UK tourism in 2012, and urged local tourism firms to sign up to a new 20.12 per cent discount scheme, which goes live to the public next month.
VisitEngland also confirmed today that hotel group De Vere who own a number of venues and hotels across the UK, is the latest to sign up as a partner and will join Travelodge, Best Western, Hoseasons Group and The Eden Project among others, as companies that have confirmed their support for the scheme.
The event, which was hosted by Dame Judith Mayhew Jonas DBE, Chairman of London & Partners, showcased the leisure and business tourism, and cultural opportunities that the Games will bring to London. 
Other speakers included Ruth Mackenzie OBE (Director, Cultural Olympiad), Justine Simons (Head of Cultural Strategy, Greater London Authority), Sandie Dawe (Chief Executive, VisitBritain) and James Berresford (VisitEngland's Chief Executive).
Jeremy Hunt said: "It's now or never for London tourism. We will never have a year like 2012 to show the world that this is, quite simply, the most exciting, vibrant, cosmopolitan city on the planet. The inevitable moans and groans in the run up to an Olympics must not cloud the scale of the opportunity - including our biggest ever tourism marketing campaign to make sure we get a lasting benefit from being in the global spotlight."
VisitEngland's Chief Executive, James Berresford said:
"I'm delighted to be here at the British Museum to take part in this exciting initiative to launch the country's most high profile campaign to boost domestic tourism.  2012 offers the tourism industry an unprecedented opportunity to grow domestic tourism by inspiring Britons to take a holiday at home next year. Spear-heading the promotion will be a high profile TV campaign and specially devised website offering discounted offers of 20.12% off or better. Any tourism business can participate and the time to do that is now.  Those businesses interested in getting involved should go to www.visitengland.org/2012offers where they will be able to find out more about the campaign and upload their offer."
Dame Judith Mayhew Jonas, DBE, London & Partners Chairman said: "London is ready to welcome the world and is seizing this once in a lifetime opportunity of hosting the Olympic and Paralympic Games and the London 2012 Festival to showcase all that is unique and outstanding about this city. We cannot underestimate the benefit the Games will bring to tourism and business and how it will change the cultural landscape of the capital. London & Partners has been leading strategically to ensure that the city makes the most of this extraordinary moment by working with industry to capitalise fully on the positive outcomes 2012 will bring."
Notes to Editors
For further information please contact Emma Marsh at the Department for Culture, Media and Sport on 020 7211 6271 / 07919 693 320.

For further information about tourism in London please visit the Visit London website or contact Sunita Sharma at London & Partners on 0207 234 5844/ ssharma@londonandpartners.com

For further information about Visit England contact Sarah Long on 0207 578 1452/ sarah.long@visitengland.org  
        

More information about London 2012 is available on the DCMS and London 2012 websites.

The GREAT initiative is an international campaign to maximise the tourism and business opportunities of the UK hosting the 2012 Games.

Culture Secretary Jeremy Hunt is making a series of visits around the country to promote the opportunities of 2012.  He visited Cumbria on 9 November, Nottingham on 16 November, Cornwall on 18 November, Birmingham on 23 November, Canterbury on 2 December, Manchester on 12 January, York on 18 January, Norwich on 20 January, and NewcastleGateshead on 26 January.  Other provisional dates are: Surrey on 10 February, Wales on 29 February and Scotland & Northern Ireland on 2 March.
Press Enquiries: 020 7211 2210
Out of hours telephone pager no: 07699 751153
Public Enquiries: 020 7211 6000
Published 2 February 2012