Press release
Culture Secretary appoints Dame Katherine Grainger as new chair of UK Sport
Culture Secretary, The Rt Hon Karen Bradley MP, has appointed Dame Katherine Grainger as Chair of UK Sport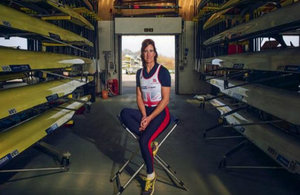 Dame Katherine Grainger has been appointed as the new chair of UK Sport for a term of four years, Sports Minister Tracey Crouch confirmed today.
The former rower is Britain's most decorated female Olympic athlete and the first British woman to win medals at five successive games.
Dame Katherine will take up the role from 1 July 2017.
Rod Carr will step down at the end of his term on 22 April 2017.
Culture Secretary, The Rt Hon Karen Bradley MP, has appointed UK Sport board member Lis Astall as UK Sport interim chair commencing 22 April 2017, until Dame Katherine Grainger takes up the role.
Sports Minister Tracey Crouch said:
Dame Katherine is a peerless leader both on the water and off it. As one of our greatest ever Olympians, she has an outstanding understanding of high performance sport, and through her educational and charity work has a proven commitment to inclusion. I know she will be an inspiring chair of UK Sport. I would also like to thank outgoing chair Rod Carr for his superb work at the helm of UK Sport over the past four years.
Dame Katherine Grainger said:
I am absolutely thrilled to be appointed as the next UK Sport Chair. I am also very honoured to be joining the team at UK Sport and building on the success and commitment to excellence that I have witnessed and enjoyed as an athlete. I'm also acutely aware of the many challenging issues currently within sport and I hope to play a role in addressing them.
The appointment of Dame Katherine Grainger was made by Culture Secretary Karen Bradley, with the approval of the Prime Minister.
Dame Katherine Grainger biography
Dame Katherine Grainger is best known for her sporting achievements in rowing. In August 2016 she won a silver medal at the Rio 2016 Olympics alongside Vicky Thornley in the women's double sculls. This, alongside her gold from the London 2012 Olympics and silver medals from the 2008, 2004 and 2000 Olympics, as well as six world championships titles, makes her Britain's most decorated female Olympic athlete and the first British woman to win medals at five successive games.
Katherine was made a Dame for services to sport and charity in the 2017 New Year's Honours list. She was previously awarded a CBE for services to rowing in 2013 and an MBE in 2006.
In May 2013 she completed a PhD in law at King's College London and was subsequently made a Fellow. She was made a Regent of Edinburgh University in 2014 and in 2015 was elected Chancellor of Oxford Brooke's University.
The Chair of UK Sport is remunerated at a rate of £40,000 per annum. In accordance with the Cabinet Office's Governance Code on Public Appointments, any significant political activity undertaken by an appointee in the last five years must be declared. This is defined as including holding office, public speaking, making a recordable donation, or candidature for election. Katherine Grainger has declared no such political activity.
Published 21 April 2017