Press release
Culture Secretary announces new UK Sport board members
The new members to help build on the success of Team GB and Paralympics GB at London 2012.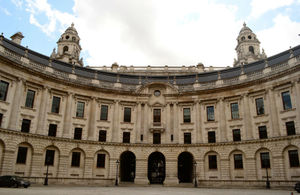 Culture Secretary Maria Miller has announced two new UK Sport board members who have been tasked to help the elite sport body build further on the incredible performances of Team GB and Paralympics GB at London 2012.
Former triathlete and rower Sarah Springman and former president of the British Show Jumping Association Lis Astall join the board effective immediately.
UK Sport has set the ambitious target for Team GB and Paralympics GB to win more medals at Rio 2016 than was achieved in London. Public funding for elite sport is at a record high with over £355 million being invested in the four years to Rio – a 13 per cent increase on London 2012.
Secretary of State for Culture, Media and Sport Maria Miller said:
Both Sarah and Lis will be real assets to the UK Sport board and bring a wealth of experience with them. Sarah's past as an elite athlete and Lis' experience in helping support young athletes and in sport sponsorship will prove valuable in the years ahead. I am sure they will both make great contributions as we look to keep the medals rolling in for Britain in the run up to and at Rio 2016.
The appointments build on the Culture Secretary's focus on raising the profile of women and sport, part of which aims to increase the representation of women on sport governing bodies boards. UK Sport's board is now forty per cent female. As part of their work on good governance Sport England and UK Sport are urging sport national governing bodies, which are in receipt of public funding, to have boards that are at least 25 per cent female by 2017.
The two new board members begin their three year terms immediately with a time commitment of two days per month.
Biographies
Sarah Springman
Professor Sarah Springman represented Great Britain in Triathlon from 1983 to 1993. She competed in the 1990 Commonwealth Games in Auckland, New Zealand. She amassed 21 elite ETU European Championship medals in triathlon (all distances) and duathlon, including three individual and five team golds, as well as finishing fifth at the Hawaii Ironman World Championships in 1985 and 1987 and the Nice International Triathlon in 1985.
She also competed in two FISA Rowing World Cup events in 1997 in the single scull and won Fijian and South Pacific titles in squash.
Sarah first became a Board Member of the British Triathlon Association between 1984 and 1985, initiating and leading multiple low cost training camps to bring women into the sport. She was the founder and co-Chaired the International Triathlon Union Women's Commission between 1990 and 1992 and was elected the ITU's sole Vice President in 1992, a position she held until 1996, during the period of successful lobbying for Olympic inclusion of triathlon in the sport programme of the Olympic and Commonwealth Games.
Sarah is qualified as a British Triathlon Federation Level 2 coach. She was appointed Chair of the newly formed British Triathlon Federation Board and President of British Triathlon Federation in 2007. She was reappointed in 2009 for the following 4 years, following election as one of four ITU Vice Presidents in 2008. She was responsible for leading ITU's bid to place Paratriathlon on the sport programme of the Paralympic Games in Rio 2016 and for preparation of and lobbying for the successful bid to place the Triathlon Mixed Relay on the programme in the Commonwealth Games.
She was re-elected to the ITU Executive Board as 1st Vice President in December 2012 and is an Honorary Member of the ITU. Currently, she serves the BTF Board as an advisor on international relations with ITU and the European Triathlon Union.
In 1997, Sarah was made an Officer of the Order of the British Empire for services to sport, and a Commander in 2012. The Jane Tomlinson Outstanding Contribution to Triathlon was awarded to her at the 220 Triathlon Awards in 2011. She was a member of the GB Sports Council (1993-1997) and a founding member of UK Sport from 1997 to 2001.
Lis Astall
Lis was born in the Channel Islands and educated at Jersey Ladies College before going to the London School of Economics where she gained a BA Hons in French and Politics. She has also studied at Nice University and Grenoble University.
Lis worked for Accenture for 27 years with a series of roles – most recently 2006-2009 as the Managing Director for Public Service in Europe, Middle East, Africa and Latin America. For the 3 years prior to this Lis was UK Managing Director across all the private and public sector work in Accenture. She has also been Global MD of Accenture's Strategic Services business in Government. Lis has worked in consulting and outsourcing businesses; in manufacturing, financial services and government.
Lis has recently served on the National Employment Panel; on the Technology Board of the e-skills Council, the CBI President's Committee and the Board of London School of Economics. Currently she is a Non-Executive Director at the Defence Science and Technology Laboratory – a Trading Fund of the Ministry of Defence and on the Board of Digital Jersey. She is a trustee of the Social Mobility Foundation and Chairman of a Brain Tumour Trust – the PPR Foundation.
Lis has a strong sporting interest. She was a sponsor for 10 years for the British Showjumping Young Rider Squad – two of them making the gold medal team for London Olympics. She served as the President of the British Show Jumping Association for four years. Whilst at Accenture she led the team that supported the London bid as a Premier Partner and also supported the sponsorship work for the Royal Yachting Association. She show jumps at grassroots level competing at the National Final for the last few years. She also skis and sails, enjoys watching most sports and is a recent convert to classic car racing.
Published 7 November 2013