Press release
Culture Secretary announces new Sport England board members
New members will help strengthen community sport in this country and ensure the legacy from London 2012 continues.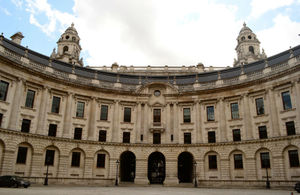 Culture Secretary Maria Miller has announced seven new Sport England board members who have been tasked to help strengthen community sport in this country and ensure the legacy from London 2012 continues.
Since London won the right to host the 2012 Olympic and Paralympic Games in 2005 1.4 million more people are participating in sport once a week. Sport England is investing over £1 billion of exchequer and lottery funding in grassroots sport in the five years to 2017, with a particular focus on the 14-25 year old age group to encourage them to have a sporting habit for life.
Olympic gold medallist Sally Gunnell, chief executive of England Rugby 2015 Debbie Jevans and British Cycling chief executive Ian Drake all take up positions on the community sport body's board.
They are joined by chair of the English Federation of Disability Sport Charles Reed, Transport for London chief finance officer David Goldstone, Speed Communications managing director Kate Bosomworth, and Accenture director Mark Spelman.
Secretary of State for Culture, Media and Sport Maria Miller said:
We have seen an increased sporting enthusiasm across the country following London 2012 and Sport England has a vital role to play in keeping up the momentum; boosting grassroots sport and encouraging even more people to participate. The new board members will help Sport England do exactly that. They bring with them a wealth of experience from different backgrounds and will help ensure that the £1 billion of public money Sport England is investing into community sport makes the biggest possible impact.
The appointments build on the Culture Secretary's focus on raising the profile of women and sport, part of which aims to increase the representation of women on sport governing bodies boards. Sport England's board is now a third female. As part of their work on good governance Sport England and UK Sport are urging sport national governing bodies, which are in receipt of public funding, to have boards that are at least 25 per cent female by 2017.
The seven new board members begin their three year terms immediately with a time commitment of two days per month.
Biographies
Sally Gunnell
Sally Gunnell won Olympic gold in the 400 metres hurdles in Barcelona in 1992 and then went on to win the World Championship in Stuttgart, breaking the World Record in the process. Since hanging up her spikes Sally carved out a career as a sports broadcaster working with the BBC Sport team on athletics until 2006. Today Sally helps companies bring health and well-being into the workplace.
Debbie Jevans
Debbie joined England Rugby 2015 as Chief Executive in October 2012. Prior to that she was director of sport at London 2012 where she had worked from 2003, as part of the bid team. She developed the sports budget and venue strategy and was part of the presentation team in Singapore in 2005 when London was selected host city. Before her successful career in sports administration Jevans was a professional tennis player. After retiring from competition she became the International Tennis Federation's General Secretary. She then ran her own consultancy firm with a range of high profile clients from the world of sport. Debbie is currently a member of the All England Lawn Tennis Club's Committee of Management and Championship Committee.
Ian Drake
British Cycling chief executive Ian Drake has been with the sport's governing body since 1998, after working as a consultant for them from 1995. He devised a talent pathway for the sport that was introduced in 2000 and laid foundations for British Cycling's incredible success at the Beijing Games in 2008 and then at London 2012. Between 2004 and 2009 Ian's focus was on how British Cycling could increase participation on the back of the success at elite level. He became chief executive in 2009.
Charles Reed
Charles is chair of the English Federation of Disability Sport and a board trustee of the London Marathon Charitable Trust. His career was in financial services rising up the ranks at Nationwide Building Society to become Director of Corporate Communications and Group Customer Services before retiring in 2008. He became involved in disability sport after being instrumental in striking a £1 million, seven year sponsorship programme with Disability Sport Events as part of Nationwide's Corporate Social Responsibility work. Charles is a director of the Active Gloucestershire County Sports Partnerships, chair of Cirencester College Sports Career Academy and an Associate Adviser to Leading Lights, a Leadership Development Consultancy. He is also a board member of the Locomotive 6201 Princess Elizabeth Society Ltd.
David Goldstone
David Goldstone was appointed Chief Finance Office at Transport for London in November 2012. Prior to that he played a huge role in delivering London 2012 as the Government's finance director on the project between 2007 and 2012, overseeing the £9.3 billion budget and the work of the Olympic Delivery Authority's building of the Olympic Park. Before his role on the Olympics David spend 12 years involved in the delivery of major investment programmes for Government. A trained accountant he spent the early part of his career at Price Waterhouse and before that was a secondary school economics and politics teacher.
Kate Bosomworth
As managing director of Speed Communications Kate Bosomworth has clients in the sport, technology and media sectors. Prior to her role at Speed Communications, Kate was the founder and managing director of KTB PR that specialised in sport, health and wellbeing. Set up in 2003 KTB PR was acquired by Speed in 2012. Kate is a trustee on two charities – the British Inspirational Trust (BRIT) and Disability Sports Coaching. A keen runner she has completed both the London and New York Marathons.
Mark Spelman
Mark Spelman is a Global Managing Director of Accenture responsible for Thought Leadership and the company's global think-tank, the Accenture Institute for High Performance. He is also responsible for Accenture's strategic relationship with the World Economic Forum and sits on the World Economic Forum's Advisory Board on Sustainability and Competitiveness. He is a non-executive director of the UK Future Cities Catapult.
Published 7 November 2013