Press release
Crossrail brings Welsh business and City of London closer together
Reduced journey times across London will improve business links between Wales and the City of London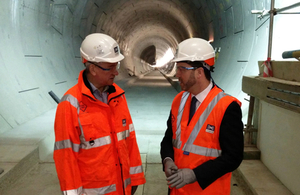 Secretary of State for Wales Stephen Crabb visited the Crossrail project at Paddington today to see how reduced journey times across London will improve business links between Wales and the City of London.
The Crossrail link will shorten journeys across London to under 20 minutes from 2018, helping commuters travelling to and from Wales via Paddington.
Around 50,000 tonnes of steel supplied by Welsh manufacturer Celsa has been used in the construction of the project, which allows commuters to reach the West End, the City and Canary Wharf without changing.
A typical trip from the new station at Paddington to Canary Wharf will cut more than a quarter of an hour on the existing time travelling by Tube.
The move will reinforce Cardiff's growing status as a financial services centre and make it easier for business travellers to get to Wales as the country continues to attract major investment projects.
Mr Crabb was shown around the 35-metre deep construction site to see ongoing work to the three-storey structure. The new station at Paddington will open in 2018 and is expected to handle 25 million passengers every year.
Secretary of State for Wales Stephen Crabb said:
Cardiff is becoming a major UK centre for financial services and we need the right infrastructure to support the inevitable growth in business travel.

Crossrail will significantly cut journey times between Cardiff and the City of London, making Wales an even more attractive destination for business investment.

This project has strong Welsh credentials with thousands of tonnes of steel from Wales used to help build it.
Terry Morgan, Crossrail Chairman, said:
The Crossrail project will transform public transport, making it quicker and easier for people to access London's major business districts. Commuters arriving into Paddington from Wales will benefit from new trains and frequent services that allow them to get right through the capital and beyond without having to change trains.
Improvements at Paddington include the Paddington Integrated Project (PIP), a close collaboration between Transport for London, Network Rail and Crossrail Limited to create an integrated station with improved passenger experience and easy interchanges. As part of this, a new Hammersmith & City line station has been built to ease crowding, along with a new pedestrian entrance to the canal towpath and a new taxi facility to the east of the existing station.
The Crossrail project will bring an additional 1.5 million people within 45 minutes of London's key employment, leisure and business districts and encourages regeneration all the way across the capital. The Elizabeth line will carry over 200 million passengers per year, adding 10% to central London's rail capacity.
The new railway will be operated by Transport for London and will be known as the Elizabeth line when services begin.
New journey options will be available, including direct services to east London, and with a single change at Farringdon passengers will be able to reach Gatwick and Luton airports using the upgraded and expanded Thameslink network.
About Crossrail
The total funding available to deliver the Crossrail project is £14.8bn. The route will pass through 40 stations and run more than 100km from Reading and Heathrow in the west, through new twin-bore 21 km (13 miles) tunnels below central London to Shenfield and Abbey Wood in the east.

The Crossrail project is being delivered by Crossrail Limited (CRL). CRL is a wholly owned subsidiary of Transport for London. Crossrail is jointly sponsored by the Department for Transport and Transport for London.

You can learn more about Crossrail here
Published 9 March 2016
Last updated 9 March 2016
+ show all updates
Added translation
First published.