Crispin Blunt visits construction rehabilitation project
Crispin Blunt has visited an award-winning probation project which sees ex-offenders learning construction to improve their job prospects.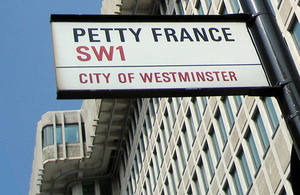 The ex-offenders referred by Avon and Somerset Probation Trust, are being trained in construction by the local Restore Trust and have started renovating empty local authority housing in deprived areas that have been left in a poor state of repair.
The Restore Trust helps ex-offenders to improve their skills and employability and reduce reoffending.
Restore Trust project manager Adam Mcmeechan said: 
'It's early days but already we are seeing noticeable changes to behaviour as trainees grow in confidence and learn the importance of working as a team.
'We are seeing real differences to the local community in which we are currently engaged and of course the property itself, as it moves from uninhabitable shell to potential vibrant family home of which anyone would be proud.'
 
Most offenders have poor work histories and low education levels with 69 per cent of learners at or below the level expected of an 11 year old. The Ministry of Justice works closely with the Departments for Work and Pensions and Business Innovation and Skills to review and reform employment and learning services for offenders.
Crispin Blunt said:
'Offender employment, training and education work, such as the construction skills taught on this project, helps to deliver the rehabilitation aims, as set out in the Breaking the Cycle Green Paper'.
Published 18 February 2011