Crispin Blunt outlines justice reforms
Crispin Blunt said criminal justice reforms are vital to breaking the destructive cycle of crime.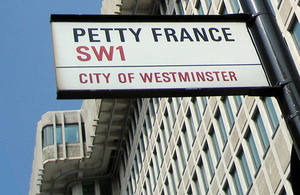 Speaking at the Social Market Foundation Rehabilitation Revolution conference, the minister said proposals for reform set out in the Green Paper would help create a 'rehabilitation revolution'.
He said plans to introduce payment by results and outcome based commissioning would be of 'profound benefit to those receiving the services and those delivering them.'
'I expect that England and Wales delivering through payment by results over the next five years will become a global market leader.'
The minister also urged attendees to contribute to the Green Paper consultation, which closes on 4 March 2011.
'With your collective experience, I am sure you will have a great deal to add to the debate,' he said.
'Success in developing and implementing these reforms is very much dependent on the knowledge and expertise of professionals like yourselves,' he added.
The Social Market Foundation is one of the UK's leading think tanks, which aims to develop innovative ideas across a broad range of economic and social policy.
Crispin Blunt's speech about rehabilitation revolution.
Published 25 January 2011