News story
Crime news: offline CRM14 eForm users need to download latest version
This was published under the 2010 to 2015 Conservative and Liberal Democrat coalition government
What you need to do to make use of the latest version of the offline form.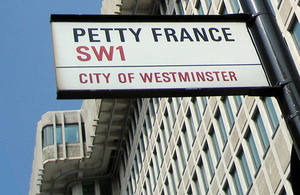 Changes have been made to the eForms portal which mean providers need to make some changes in their web browsers to carry on using the 'offline' version of the CRM14 eForm.
Your browser is the software you use when visiting the web, for example, Internet Explorer (IE), Chrome, Safari, Firefox etc.
Next steps
What you need to is set out in the attached 'How to clear your cache' guidance document below.
By following the instructions you will delete your link to the downloaded 'offline' version of the CRM14 eForm.
You only need to update once
This will only need to be done once as the changes we are making will ensure that in future the offline version of the eForm will update automatically.
But before you do anything it is important to ensure that you transfer all existing 'offline' eForms.
Otherwise, clearing the cache will remove any forms from the computer or device you normally use. So you will lose work which you have started.
Further information
PDF, 150KB, 2 pages
This file may not be suitable for users of assistive technology. Request an accessible format.
If you use assistive technology (such as a screen reader) and need a version of this document in a more accessible format, please email web.comments@justice.gsi.gov.uk. Please tell us what format you need. It will help us if you say what assistive technology you use.
WebEx online training – to book training on CRM14 eForm
Criminal legal aid processing: applications and digital systems
Praise for CRM14 eForms in crime provider survey – news story with provider feedback
Document information
Published: 25 November 2014