Crew bids farewell to HMS Cornwall
The crew of HMS Cornwall said farewell to the ship last week at a decommissioning ceremony at Devonport Naval Base.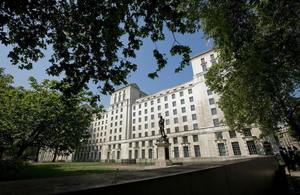 The ceremony, held on Thursday 1 July 2011, marked the retirement of the ship from the Royal Navy after 23 years, and was an occasion for the ship's captain, Commander David Wilkinson, to pay tribute to her affiliated organisations and the county of Cornwall as a whole for their support.
Commander Wilkinson said he and the ship's company had been proud to represent the nation and Cornwall worldwide on operations and other duties.
The event included a parade of the crew, a band of the Royal Marines, a religious service, the ceremonial final sounding of the ship's bell and the lowering of the commissioning pennant, White Ensign and Union Jack.
HMS Cornwall, known as the 'Fighting 99', is the last of the Type 22 frigates to be decommissioned under the MOD's Strategic Defence and Security Review. Sister ships HMS Cumberland, HMS Chatham and HMS Campbeltown have preceded HMS Cornwall.
The ship has circumnavigated the globe, visited every ocean, taken part in Cold War operations, and recently served east of Suez on counter-piracy duties.
Commander Wilkinson described his ship as world-beating and was proud to have served with his crew over the last 13 months, who he thanked for their support and professionalism. He said they were both compassionate and aggressive when needed, served with good grace and humour, and were his strength. He added:
My ship's company have been fantastic, a wonderful example of the youth of today. I look back on my command with pride. It is an honour to be the last commanding officer of HMS Cornwall.
I hope the people of Cornwall have good memories of HMS Cornwall and all who served on her. This was an occasion to say farewell and to thank the county of Cornwall. The freedom of the city of Truro parade by the ship's company on the 13th of July is a chance for the country to say goodbye to us.
Chief Petty Officer John Midwood, of Dewsbury, near Leeds, lowered the White Ensign for the last time at the stern of the ship.
Most of the crew will stay together until late October 2011 after which they will attend courses and move onto new posts. In the meantime the physical decommissioning process will continue but the future of the ship is yet to be determined.
Published 6 July 2011