News story
Crest Nicholson to be new partner for major new community in Cambridgeshire
DIO selects Crest Nicholson as partner for major new community in Cambridgeshire.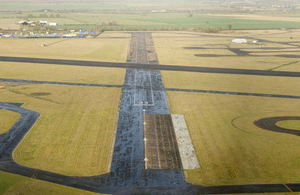 The Defence Infrastructure Organisation (DIO) has appointed Crest Nicholson as its development partner for Wyton Airfield, a prime site that will provide up to 4,500 much needed new homes, infrastructure and community facilities for Cambridgeshire. The £1 billion project will also generate some 2,500 new jobs in the area across office and retail sectors.
Located near Huntingdon, the site is no longer needed for defence purposes. The Ministry of Defence (MOD) is selling this land so that the funds can be reinvested in defence priorities, whilst making a significant contribution to government housing targets.
Matthew Punshon, DIO Director Asset Strategy and Portfolio, said:
DIO's priority is to provide the right sized estate to enable military effectiveness which is affordable to government over the long term. Where this allows us to release surplus land for development such as Wyton Airfield, it means that new homes can be provided where they are needed and helps to achieve wider government policies for housing supply and sustainable development.
Scott Black, Crest Nicholson Group New Business Director commented,
We are very pleased to have the opportunity to work in partnership DIO to realise the full redevelopment potential of this significant brown field site. With an estimated Gross Development Value of circa £1billion, the transformation of Wyton Airfield into a thriving new community will deliver a mix of much needed high quality new homes, including a proportion for private rent and self build. Furthermore it will be supported by 2 new primary schools, a new secondary school and improved public transport connections into Cambridge and Huntingdon. It will deliver significant employment opportunities, as well as a district centre including shops, a doctors' surgery and supporting community facilities.
The development will be designed and provided in line with garden village principles, visionary design, high quality green spaces, a mix of tenures and involvement of communities in both the vision and long term management arrangements.
It is anticipated that a planning application will be submitted in the early part of 2016.
Published 14 November 2014