News story
Creative thinking helps reactor demolition
Another pioneering in-house invention has allowed the PFR reactor dismantling team to complete one of the final phases of the reactor dismantling.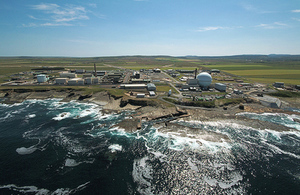 The 'centre guide tube' was successfully raised from the reactor core, demonstrating that internal fixtures can be safely removed. This supports the plans for taking apart the remainder of the former electricity generating plant.
The original equipment to remove and replace reactor core components was designed to operate while immersed in molten sodium at temperatures exceeding 350°C . Now the reactor is drained of sodium and the temperature has fallen below 100°C this equipment no longer works.
The reactor dismantling team set to work and identified an alternative method to remove the reactor core.
A DSRL design team, led by Calder Bain, proposed a long series grab capable of reaching down approximately ten metres from the reactor top to latch onto the guide tube, with a chain block connected to the building crane which carefully raised the tube from the reactor depths.
PFR reactor dismantling project manager Rob Hibbert explained:
This was a complex and technical challenge for the team and a significant achievement to carry out the remote operations safely in a hazardous environment.

During this project, readings were recorded from the depths of the reactor in excess of 1000Sv/hr, which is valuable data for carrying out the remainder of the reactor decommissioning plans.

We need to fully understand the different types and quantities of remotely handled waste components inside the reactor, which will be sized and packaged at PFR. This helps us prepare the scope for the new infrastructure for the remainder of the reactor dismantling and waste removal as we decommission the reactor internals prior to reactor hall demolition.
The final reactor component extraction and characterisation will be completed during 2014.
Published 28 November 2013