Creating memories in the oblivion
IPE, with support of the British Embassy, carried out research in schools in Lima and Ayacucho on how the internal armed conflict is taught.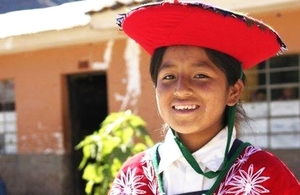 By Francesca Uccelli. Lead investigator for the Institute of Peruvian Studies.
What position were we in as teachers? Going back to school was a scary experience. Two or three teachers would give class whilst another kept watch so that we could substitute one another if the military or shining path came. It was a big problem.
The account of this teacher is similar to those of many other teachers who lived through the period of violence in their classrooms first hand, either as students or as teachers. Today the same people who were protagonists in these events are those who are called upon to educate students about the internal armed conflict (IAC), despite not having received any help in order to come to terms with, heal or otherwise deal with their own experiences of the violence and horror they lived through.
The Institute of Peruvian Studies, with the financial support of the British Embassy, carried out an investigation in 2012 to learn more about how the IAC was being dealt with in the classroom. (The IAC has been included in the national curriculum since 2004 and the Ministry of Education covers the subject in textbooks in related areas, namely history and general education.) We carried out case studies in schools in Lima and Ayacucho, focusing on teachers' and students' perceptions of the conflict and teaching on the subject.
The main findings show that at present the subject is barely touched upon in the classroom but also that the atmosphere in schools and other educational establishments doesn't create an appropriate environment in which to tackle such a topic. Whilst the students do receive relevant information- mostly from family and the media- it does not present a complete picture, confusing and often laiden with prejudices. Teachers denounce the violence that occurred during those years and do not want it to happen again. However, a lack of understanding and sense of unease about how and what to teach are common and agravated by the absence of a consensus about how to approach the subject. As a consequence, the majority of teachers avoid the topic and those that do try to tackle it only do so at a superficial level, lacking depth. There are only isolated individual examples of good practice.
Our research illustrates that there has been a lack of due consideration of the subject by public secondary schools and also highlights the absence of a concrete policy for memory in education. We believe that it is fundamentally important to recognise that teachers that educate students about the IAC have their own understandings and- in many cases- personal experiences about those years of violence that need to be taken into account. As a result, this year the Institute of Peruvian Studies (with the support of the British Embassy) is carrying out a project to create dialogue spaces for teachers in the areas of history and general education to allow them firstly to deal with their own experiences and reassimilate them within the context of Peru's history, so that they can then reflect on the importance of teaching on the subject (or not). In other words, to talk collectively about what, how and why we need to remember our past.
10 years after the Truth and Reconciliation Committee's report was published, one area that clearly still needs to be addressed is the implementation of recommendations made on reform of the education system. Whilst the IAC has been incorporated into the national curriculum and in textbooks no in depth reform has taken place and as a consequence the underlying issues remain: a lack of consideration of the subject in the state's education policies, an authoritarian and irreflexive pedagogy, intolerant teaching and practices in schools, and finally an educational system that exacerbates the different backgrounds and experiences of its pupils.
The task is complex and it requires political will to enable us recognise ourselves as a postconflict society and so that we can take the necessary measures to ensure that such violent acts cannot be committed again in the future. With our work we hope to be able to contribute to this effort so that these memories aren't forgotten.
Published 2 September 2013