World news story
Crayons and Catharsis: Inspirational Women on IWD
British Ambassador Tom Fletcher hosts two guest blogposts from inspirational Lebanese women marking International Women's Day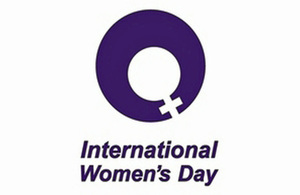 As we mark International Women's Day, discrimination and violence against women and girls remain all too present. In Lebanon we continue to lobby for better political representation for women, and to challenge inequality, an issue worth being undiplomatic about.
I want to share with you guest blogposts by two great Lebanese women who have inspired me: Zeina Daccache (on her work using drama therapy with survivors of conflict) and Leena Ksaifi (on the battle to protect the rights of Migrant Domestic Workers'). These are just two examples of the many who are changing the equation - including May Khalil and May Chidiac.
Women: the greatest human rights advocates
I have been called a human rights advocate since I first started my practice in drama therapy, whether in prisons, drug rehabilitation centers, youth at risk, etc. And lately after the completion of the Scheherazade project in 2012-2013, I was called a women's rights advocate. I have never written about this before, but I would like to take this opportunity to share with you what drives me to advocate for women's rights.
Following the July war in 2006, I was appointed by a Lebanese NGO to deliver drama therapy sessions at two villages in South Lebanon to "devastated" women (as they were described in the job proposal). Women who had lost husbands, family members, houses, belongings – in other words, women who had lost a total life without losing their own.
It was my first experience as a drama therapist with women. I had worked previously with male inmates in Italy, youth residents at a drug rehabilitation center and high-school students looking for answers to their future, but never women. I drove all the way from Keserwan through rusty roads destroyed by the war, thinking: "What a silly thing I'm doing. We are talking about women who have suffered", "no therapy or any other activity could heal their wounds, which are still raw". I even had the idea of quitting the whole project and suggesting that the NGO replace it with more emergency services - perhaps building houses for these women might be more of pressing need at this stage. I even thought that the women would be wishing to die since they had lost everything. I kept on having all kinds of prejudices, "Poor women", "No force whatsoever can help them…" "Women are more sensitive than any other population I have ever worked with. How will they ever overcome times of war?"
All these ideas were in the back of my mind as I reached the overcrowded room where around 70 women were waiting for their first drama therapy session.
But before 15 minutes had passed I got my own Catharsis: WOMEN ARE SUPER SPECIAL.
They told me "Listen Zeina, they told us you are a therapist, the fact is: We want to survive and we don't want to give up. We have the will and a strong one, so go ahead and help us with the tools." I had deceived myself… What was I thinking? My role was to teach people not to have prejudices and yet I had so many myself. Resilient was the first word that came to me to describe those women. That same term sprang to mind again in 2012 when I was working with female inmates at Baabda Prison. And again working with female migrant domestic workers since 2014.
After just a few sessions, the group of women I was working with in the South grew bigger and the number of sessions doubled as their desire was so strong. Not surprisingly for them (but very surprisingly to me), these ladies started giving hope to the rest of the women in the village. They joined the men in the reconstruction and attended municipality meetings. Indeed, they had the strong will and just needed the tools.
I do not consider myself to be a feminist as the term is described in the dictionary, but I think that women have a lot of guts. At Baabda prison, women were not shy to disclose their inner stories, with the objective of changing other women's lives, and arguing for a law that protects women from domestic violence. With men, it was much harder to get them to reveal those inner stories, and discover the advocate within each and every one of them. Moreover the women, once out of prison, often wanted to continue their mission, by holding awareness sessions at schools, and attending advocacy meetings with us.
I smile now whenever I read a project proposal describing women as devastated or fragile. I want to scream out loud, to the world: there is no woman who needs empowerment; there are just women who need the right tools. They have the empowered spirit within. All you can offer is your expertise and they will take it to the moon.
I have been called a women's rights activist. But I always say no woman is no activist. Women just need the tools and if there is a good law to support their cause, they will fly even further. The way the women and I do it? I simply offer them the tools, they take these tools and use them to successfully campaign for a law that protects women's rights.
Ladies of the South - I only hope you will forgive my naïve prejudice.
Zeina Daccache – Drama therapist / play and film director / Catharsis
Crayons and Migrant Domestic Workers' Rights
It was inspired by many things. Mainly, growing up with migrant domestic workers (MDW) both in my home and in my environment; reading a lot of literature on MDW abuse for my dissertation; and crayons.
Yes crayons- big colourful crayons.
I was sleeping in my dorm room one night when I sprang out of bed with an idea. An idea that seemed perfectly suited to be coloured out on A2 sized paper with my newly purchased crayons, at 4:30am.
There is no doubt that MDW abuse is a complex issue and, thankfully, a lot of driven people and great organisations in Lebanon are doing the best they can to mitigate the problems. But what struck me in many of the campaigns I saw, the research I read and the coffee chats I had, was that employers of MDW were only viewed as perpetrators of abuse.
The madam that doesn't let the MDW out of the house; the madam that has high expectations; the madam that wants to control every aspect of her life; and the list goes on.
And whilst it takes close to nothing to emotionally charge me up, I forced myself to see things a bit differently. My question was, if employers are part of the problem, then how do we make them part of the solution? And the same extends to recruitment agencies (RA).
If the employer has a problem with the worker she's employed, who does she turn to for advice? Surely not her neighbor who may have internalized the same types of malpractices, nor the RA who may not have the need, resources, or will to respond effectively.
So the idea that came to me was a professional centre that provides services and trainings to meet the needs of MDW, employers of MDW, and RA - (the three groups of people directly involved with one another), in order to help facilitate a good and just employment relationship. So instead of demanding that RA or employers change their attitudes and behaviours, let's instead provide a resourceful place, knowledge, and the know-how, so that they can proactively change.
And I was ready to bet my money on it.
But that was the problem, what money? How much money would be needed to bring this idea to fruition? Where would I start? And then there were the personal questions: did I really want to live in Lebanon to pursue this? Would being a woman careerist mean compromising other aspects of my life? Finally there was always the ominous question: What if my idea didn't work?
So the idea was put on hold and I got busy with working and life, until I stumbled upon an opportunity that allowed the potential for both myself and the idea to surface when the British Embassy provided me with a grant. With high spirits, I then set off to investigate the needs of each stakeholder, identify what services would cater to those needs, and test if the services would be openly welcomed.
I am delighted to say that, my spirits are still high and the work is well underway, and to be honest it's because of 3 main factors:
1- An active British Ambassador, Mr. Tom Fletcher who genuinely focuses and continues to focus on MDW rights, and a great relationship with awesome individuals working at the British Embassy who believed and invested in me since I was first awarded a Chevening Scholarship in 2011.
2- A Lebanese society that is becoming more receptive to change and self-improvement; prove me right and click here to protect domestic workers rights
3- My family and especially my late father that taught me tenacity, to never give up, and to always ask one too many questions.
So whenever I have a good or not so good moment while working on my idea, I always make sure to think of the above mentioned motivators and to always have a crayon (or 2) close by.
Leena Ksaifi – A Chevener Alumni Scholar from SOAS university of London in Political Economy of development. Works as a campaigner for the Middle East region with international anti-slavery organization Walk Free.
Published 8 March 2015