Crane fix restarts plant clean up
Lateral thinking to solve a crane breakdown has restarted decommissioning at Dounreay's reprocessing plant.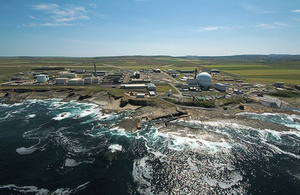 Work had stalled on cleaning out the highly contaminated cell where irradiated fuel had been taken apart before being reprocessed.
The in-cave crane had broken down in 2006, blocking the clean-up of the highly radioactive cell, and taxing the ingenuity of successive decommissioning teams.
The team of decommissioning experts built a replica to work out solutions to fix the crane remotely, as man entry was not possible due to the high level of radioactivity.
Their solution was elegant in its simplicity and the team were able to fix the problem through a narrow plug in the roof of the cell.
As senior project manager Gordon Tait explained: "The problem of the broken crane had been taxing teams for years, but the answer was actually very simple.
"The team are extremely capable at thinking up answers, and now we have a proven technique we can use in other areas of site where it's too radioactive to allow man entry.
"By tackling "unsolveable" problems one challenge at a time, we are getting the difficult decommissioning jobs done."
The team's solution has been recognised by an in-house award for decommissioning excellence.
Published 31 May 2013