News story
Covent Garden Market Authority appoints new board member
Archie Robertson OBE has been appointed to the Covent Garden Market Authority as a board member covering transport and operational issues.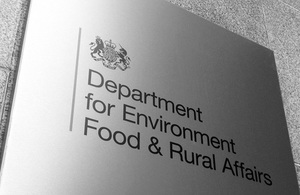 He took up his post for an initial term of three years beginning on 1 July 2013 and ending on 30 June 2016.
The Covent Garden Market Authority (CGMA) owns and is responsible for the operation of New Covent Garden Market. It is sponsored by Defra and led by the CGMA Board, members of which are appointed by Defra's Secretary of State, Owen Paterson.
Mr Robertson has over ten years of experience in senior transport and logistics roles in both the public and private sectors.
As well as being on the board for the Covent Garden Market Authority, Mr Robertson also chairs the charity Living Streets and two technology companies, Rapid5D Ltd. and Via Verde Inc.
In addition, Helen Gordon and Glyn Smith have each been re-appointed for a further term of three years from September 2013 to September 2016.
Helen Gordon has vast experience of property and estates management which she's gained both in the private and public sector. She is currently the Global Head of West Register and Global Head of Real Estate Management at the Royal Bank of Scotland.
Glyn Smith is an experienced financial professional with extensive board level experience. He worked at Barclays Bank for 25 years as an executive and as a Group Finance Director.
The appointment and reappointments have been made in accordance with the Code issued by the Commissioner for Public Appointments. All appointments are made on merit and political activity plays no part in the selection process.
Published 16 July 2013