Couple admit running fake ID factory
A couple from south east London have admitted running a factory that made fake passports and identity documents.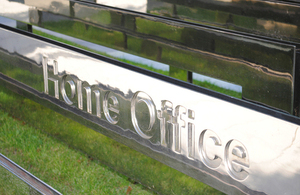 Abiola Olatunji-Orelope, 34, was arrested along with his wife Folashade, 28, after their home in Lewisham was raided by the UK Border Agency on 9 September 2010.
Officers uncovered 50 counterfeit passports in various stages of construction purporting to be Ghanaian, Nigerian, Irish, Czech and even British issue.
Glue and laminates
They also seized 20 counterfeit German, Dutch and French Identity cards, around 40 fake Home Office and other National Government rubber visa stamps and ink pads, cutting boards, razor blades, paint thinners, glue, laminates, forged visas and around 30 blank birth and marriage certificates.
Officers even found a book containing a list of orders from clients and passport sized photos ready to be used in the forgeries.
Abiola Olatunji-Orelope pleaded guilty to fraud, deception and possessing false identity documents.
On Monday 23 May at Croydon Crown Court he was sentenced to three years in prison. His wife admitted possessing false identity documents and was given a one year suspended sentence plus 140 hours community service.
Flouting the rules
Alex Ttaris, from the UK Border Agency's criminal and financial investigation team, said: 'This was a sophisticated criminal operation, and I have no doubt that these fake documents would have been used to flout immigration rules, gain employment, open bank accounts and obtain other goods and services by deception.'
Nationally the UK Border Agency has specialist crime teams consisting of over 700 investigators who are a mixture of immigration officers, police officers and customs officers working together to protect our borders and tackle serious and organised immigration crime.
 
Anyone who has information about immigration crime can contact Crimestoppers on 0800 555 111 anonymously.
Published 25 May 2011