World news story
Countess of Wessex meets the Qatari Businesswomen's Association
Her Royal Highness The Countess of Wessex attends a tea with the Qatari Businesswomen Association.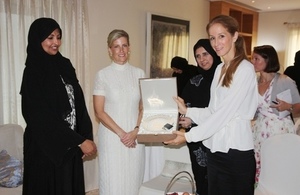 The wife of the British Ambassador to Qatar, Mrs Alexjandra Hopton, hosted a tea provided by Oryx Rotana, for Her Royal Highness The Countess of Wessex, and a number of Qatar's leading businesswomen on Wednesday 7 October.
HRH The Countess of Wessex was in Doha as part of a four day visit to Qatar, in support of her work with blindness prevention charity Orbis UK. HRH is also the Global Ambassador of the Duke of Edinburgh's International Award. This charity works with over 300,000 young people every year, helping them to develop skills for life and work. In 2003, HRH established the charity's Women in Business Committee, to support The Duke of Edinburgh's Award's ambition to reach more young people.
Mrs Alexjandra Hopton said:
I was delighted to host such a vibrant and interesting afternoon that gave HRH The Countess of Wessex the opportunity to meet with such a range of inspiring Qatari women and to celebrate the achievements of the Qatari Businesswomen Association. HRH discussed a number of topics, including how to increase the number of women in business in Qatar, and how to promote a culture of volunteering amongst young people.
Mrs. Natra Saeed, Board Member of the Qatari Businesswomen Association thanked Mrs. Hopton for hosting this afternoon tea and said:
It's an honour and pleasure to welcome HRH the Countess of Wessex to Qatar, we, women of Qatar in general and the Qatari Businesswomen Association in particular are keen to build and maintain bridges with the international community as we believe this generates opportunities for us and for the future generations
Qatari Businesswomen Association was established in 2000 to enhance women's contribution to the economic activity which constitutes a real gain both to Qatari women and the society at large. The Qatari Businesswomen Association is chaired by H.E Sheikha Al Anood Bint Khalifa Bin Hamad Al-Thani, and managed by a number of prominent Businesswomen who have a history of success in many businesses in different sectors that they work in or manage. QBWA organises a number of activities, conferences and Programmes that support Qatari women and has played a distinguished role in enhancing women contribution to push the economic wheel towards the strategic growth that Qatar is witnessing today, and in line with the wise vision that the government has set.
Published 7 October 2015