World news story
Countdown to stop sexual violence
From:

Part of:

Published:

3 June 2014
This was published under the 2010 to 2015 Conservative and Liberal Democrat coalition government
UK and Guatemala working together to tackle rape in conflict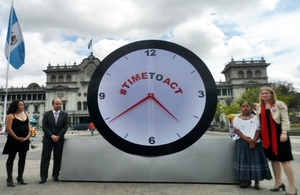 Today the British Embassy launched the clock "Time to Act" as part of the global countdown to the End Sexual Violence in Conflict Summit that will take place in London on 10 – 13 June 2014, and that will bring together members of the Guatemalan government, civil society and a "youth ambassador" as the voice of the country's new generation.
The clock is also a reminder that it is "time to act" towards ending the use of rape and sexual violence in conflict. The Summit aims to deliver a set of practical agreements that bring together and focus the efforts of conflict and post conflict-affected countries, donors, the UN and other multilateral organisations, NGOs and civil society in an ambitious and cohesive programme for change.
Guatemala has been invited to join this effort and is a champion country in the Preventing Sexual Violence in Conflict Initiative (PSVI). The unveiling of the clock was attended by the Director of Human Rights Issues at the Ministry of Foreign Affairs, Carlos Hugo Ávila; the British Ambassador to Guatemala, Sarah Dickson; the President of the National Union of Guatemalan Women (UNAMG), Ada Valenzuela; and the Guatemalan "youth ambassador" to PSVI, Mayra Coc Cacao.
Mayra was selected from a group of Guatemalan youngsters to represent the country in the PSVI summit in London. The UK wants young people's views on 'How to End Sexual Violence in Conflict' so that the international community can ensure their voices are heard on this issue. Mayra is a native Guatemalan from Alta Verapaz.
To mark the unveiling of the clock, Ambassador Sarah Dickson said: "Sexual violence in conflict destroys lives and damages communities. Every day, women, men, boys and girls continue to suffer the consequences of this violation, but we believe something can and must be done to change this situation. This clock marks commitments toward not repeating the mistakes from the past, helping those that suffered this violence and define a roadmap to reconciliation. I invite Guatemala to become an important factor in this global discussion". The conference will also bring together long-term international multi-donor trust funds that provide support to survivors of sexual violence. In the past years these organisations have supported survivors with more than US$100 million. For more information about PSVI please visit
http://www.gov.uk/government/topical-events/sexual-violence-in-conflict

http://www.gov.uk/world/guatemala