Councils' red tape cut as 4,700 Whitehall targets slashed
Cutting red tape will mean councils will be free to focus on frontline services.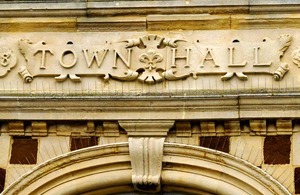 Sweeping measures that will radically reduce bureaucratic reporting for councils were announced by Local Government Secretary Eric Pickles ahead of the government's Spending Review.
Ending the requirement to report back to central government will mean local authorities will be free to focus on protecting frontline services. Underlining his commitment to localism, Mr Pickles said that the years of government micromanaging were over.
The abolition of centrally driven targets, known as Local Area Agreements, will instantly remove reporting on 4,700 Whitehall targets from councils' daily workloads. Instead, local areas will be in control of their own delivery targets, answering to residents.
In addition, National Indicators used to monitor council performance will be replaced with an agreed single list of Whitehall data requirements for local government. New transparency arrangements will make sure councils remain accountable to local people.
Mr Pickles reiterated that transparency, productivity and innovation must be the watchwords for council business from here on in.
Secretary of State for Communities and Local Government Eric Pickles said:
"Time and time again, I hear complaints from councils about how much of a burden the National Indicator set is. Not because measurement and targets are always a bad thing.
"But national targets tend to mean that councils are constantly working on things which matter to Whitehall, regardless of what local residents think. I'd much rather councils were tackling local issues. The money being spent on form fillers and bean counters could be far better spent helping elderly people to stay in their homes.
"So I'm scrapping the existing local area agreements. I'm handing over control of more than 4,700 targets to councils and their voters. To keep them or dump them as they see fit.
"And instead of the National Indicator Set, and instead of every single department's endless demands that you measure this, that or the other, there's just going to be one list of every bit of data that government needs."
Watch a video of Eric Pickles discussing the changes - part 1
Watch a video of Eric Pickles discussing the changes - part 2
Published 14 October 2010