Councils pledge to raise bar on procurement
Improving value for money and protecting frontline services.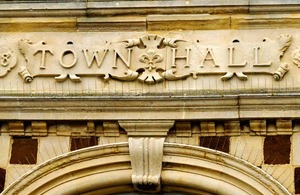 Communities Secretary Eric Pickles co-chaired a meeting with Local Government Association Chairman Dame Margaret Eaton to discuss how to help councils improve value for money and protect frontline services.
Following a tough but fair Budget, the meeting brought together key figures from local councils, central government, business and voluntary groups to discuss opportunities to enhance productivity through better procurement and collaborative working.
New savings now
This marks the start of a major programme to be lead by the Local Government Association that will help identify ways councils can deliver better value for money for taxpayers. For example, by addressing the fragmentation of local government spending to secure further savings and encouraging more collaborative working.
Eric Pickles said of the project:
I welcome the Local Government Association's pledge to step up and lead a productivity programme so local government can find new savings now. Councils need to look at where every penny is going and what that money is delivering, finding new savings now and planning for better service in future.

Shining a light on spending will help to put savings before cuts. Councils have delivered significant efficiencies but there is still more that can be done to enhance better value for money for hard-pressed local taxpayers and to protect the front line services that so many rely on.
Dame Margaret Eaton said:
Councils are always looking for ways to work more efficiently and are best placed to see how savings can be made on the ground. Town halls have been delivering major savings for years and want to ensure that councils and the rest of the public sector can learn from the best performers.

We believe it is important to work with government and others to make sure that we cut waste, red tape and bureaucracy throughout the public sector and ensure councils can carry on doing their vital work that touches every family and business in Britain.
Greater transparency and value for money
The project is another example of the government's commitment to transparent value for money. The Secretary of State has already written to councils calling on them to conduct business openly and publish details of all spending over £500 online and in full.
The Secretary of State added:
A renewed and concerted focus on better procurement, greater transparency and increased collaboration that puts the emphasis on productivity above processes can further reduce duplication and unnecessary costs.
Facts and figures
public spending currently represents £11,000 for every man, woman and child in the country; a significant amount of this, £42 billion, is spent by local government on outside contracts including everything from construction, IT, telecoms and catering
councils own and maintain a lot of assets; there are 470,000 civic buildings; over 50,000 vehicles including more than 6,000 bin lorries; 1.27 million computers
the National Audit Office found that in some cases there are huge differences in the prices parts of the public sector, including councils, are paying for goods and services
the cost of toner cartridges can vary between authorities by up to 745%
the cost of envelopes varied between £2.04 and £9.13, and paper costs varied across councils from £6.84 to £14.79
Published 25 June 2010