Councils given the freedom to stop people playing the social housing system
The sense of injustice associated with the system for social housing is finally coming to an end, Housing Minister Grant Shapps said today. …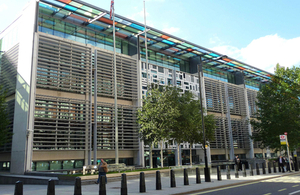 The sense of injustice associated with the system for social housing is finally coming to an end, Housing Minister Grant Shapps said today.
Mr Shapps said new allocations guidance he published today for consultation will release councils and housing associations from the shackles of the current tick-box approach for allocating social homes.
The new freedoms will ensure councils and housing associations can reward achievement and encourage housing mobility - so scarce and precious social homes go to people who genuinely need and deserve them the most, such as hard working families and ex-servicemen and women.
At the same time, housing providers will be able to tackle the tenants who are able to work but do not take up opportunities for jobs.
Ministers believe that for too long there has been a sense of unfairness over who gets to live in social housing, with a common belief that tenancies only go to those who know how to play the system.
Several councils have already indicated they want to introduce a new flexible approach to manage allocations -Westminster, Southend and Manchester councils will prioritise those who show responsibility and make an effort to find work, and in Wandsworth those tenants on new flexible contracts who do not make an effort to find work will risk losing their tenancy.
Mr Shapps said untying the hands of councils and housing associations will make sure social housing once again becomes a springboard for success, instead of a final destination where aspirations are permanently put on hold.
Housing Minister Grant Shapps:
For years the system for social housing has been associated with injustice - where rewards are reaped for those who know how to play the system the best. Despite this terrible image a lazy consensus in social housing has ensured that, for an entire generation, no one has bothered to do anything about it.

That's why I have today published new guidance for councils that will release them from the one-size-fits all approach and give them genuine freedom to ensure people benefit from living in a social home when they need it, for as long as they need it.

No longer will people who gain a council house be able to leave their aspiration and ambition at the door - instead, they will be helped to make a better life for themselves and their communities.

These changes will not only ensure more people benefit from the privilege of living in a social home, it will also restore pride to social housing, so a social tenancy is no longer seen as a stagnant option for life, but a launch pad to fulfil aspirations.
The new powers will support councils who are already making plans to ensure social housing is used to reward people who are working or actively seeking work. Examples include:
Westminster - The council intends to reward those actively seeking work and discourage a 'benefits culture'. Households where the main applicant has been working under a written contract for at least two years will be given priority, and people who have been seeking work for the same period of time will be eligible for extra points if they have been engaged with the council's homelessness employment learning project. The aim is that by successfully housing these people they may be able to move out of council properties, freeing up more stock for other people who need it.

Southend - the council intends to put aside 20 per cent of its 6,200 homes for households in employment. The 'work plus' properties will incentivise and reward those in work and create more mixed communities.

Manchester - the council is starting to recognise employment status and community contribution in its allocations policy. Households on the waiting list who are working will be put in a higher priority band than they would otherwise have been.

Wandsworth - the council are proposing a pilot scheme called 'Housing into Work' where applicants who are unemployed, and of working age and physically capable of work, will be granted two-year tenancies on the condition that they find make every effort to find work or enroll on a training course.
The new guidance is part of radical reforms being introduced by the Government that will untie the hands of councils who in the past have been hamstrung into one course of action for all new tenants - to offer a home for life.
Instead of this one-size-fits-all approach, councils will have the freedom and flexibility to set the lengths of new tenancies, which take account and meet the needs of their tenants.
This key change will prioritise the vulnerable and lead to a fairer system. Landlords will be better placed to meet the needs of their new tenants - including through lifetime tenancies when appropriate - while the tenancies of their existing tenants will not be affected.
Notes to editors
1. New allocations guidance for councils and housing associations was published today for consultation. The consultation is open until 30 March 2012. A copy of the consultation can be found here: www.communities.gov.uk/publications/housing/allocationofaccommodation.
Twitter
Keep up to date with the Department by following us on Twitter (external link).
Media enquiries
Visit our newsroom contacts page for media enquiry contact details.
Published 5 January 2012