Press release
Councils amassing secret stockpiles of taxpayer money says Local Government Secretary
Latest figures confirm councils have now amassed £19 billion in reserves.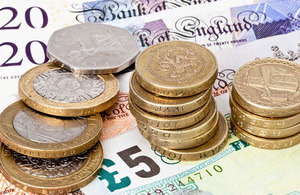 Local Government Secretary Eric Pickles today (28 November 2013) said councils are misleading the public if they claim they have no money left, but they stuff billions more of taxpayers' cash into their municipal piggy banks.
Latest figures published today confirm that councils have increased their cash reserves by over 20% in real terms since 2010 to 2011. Reserves now stand at over £19 billion - an increase of £2.6 billion in the last year alone.
Mr Pickles called on local authorities to consider whether such substantial reserves are necessary at a time when they should be focusing on protecting frontline services for residents and making sensible investments for the longer term.
Councils account for a quarter of all public spending. In total councils are forecast to spend £102 billion in 2013 to 2014 - up 4% from their forecast the year before.
The figures also show that councils' in-house spending continued to rise by a further 2% despite repeated calls by ministers to reduce administration costs and overheads.
Local Government and Communities Secretary Eric Pickles said:
There are no rules on what councils should hold in reserve and taxpayers will be amazed that while councils are amassing billions in secret stockpiles some are pleading poverty and raising Council Tax bills for hard working families.

Everyone appreciates the need for a financial umbrella for those rainy days but keeping reserves at levels unprecedented in recent years should give local residents pause for thought. Instead they could be tapped into to ensure councils can protect frontline services and keep Council Tax down for hardworking people.

Councils can also look at using reserves to pay for the short-term costs of restructuring their management structures to save millions in the long-run.
Further information
See the Local Authority Revenue Expenditure and Financing England 2012 to 2013 statistical release.
In 2013 to 2014 councils are budgeting to spend £102.2 billion in England on revenue expenditure, an increase from £98.4 billion budgeted in 2012 to 2013.
Published 28 November 2013