World news story
Councillors and Consulate discuss how to improve support for expat Brits in Alicante
Councillors for EU residents, many from towns with a high number of British and other non-Spanish nationals, today met officials from the British Consulate to discuss ways to offer greater support to British nationals.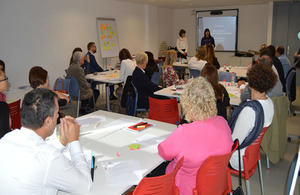 They looked at the benefits and issues that come from having a high number of British nationals living in their towns. All the councillors agreed that Brits are more likely to volunteer than their Spanish counterparts and as such are a really positive addition to where they live, although more still needs to be done to help them learn Spanish and encourage them to register on the padron.
The meeting at the Red Cross headquarters in Alicante also gave councillors the chance to learn about a recently-signed collaboration agreement between the British Embassy and Red Cross, which seeks to enable easier access to Red Cross services for English speakers and encourage volunteering within the British community. The Red Cross announced that an English speaking email and phone number for enquiries and contact will soon be up and running as part of this agreement.
Councillors said a priority for them was working closely with local charities and English speaking associations to help their residents. Many of them explained that they already do this, and those that didn't committed to making contact with the ones in their area to work together and give them more support.
Sarah-Jane Morris, British Consul for the Alicante region, said:
Getting the councillors together has been really beneficial. We have both looked at how to better support British nationals by working together, and learnt from each other and shared ideas. We want to ensure British nationals and English speaking charities get the best possible support from their town halls.
The councillors represented the top ten towns in terms of British resident numbers in the Alicante consular district, as well as other smaller towns with a high percentage of British nationals on the padron.
Published 30 October 2015