Council Tax bills frozen in spending review
Eric Pickles has said Council Tax bills will be frozen next year - as a result of a deal struck in the Spending Review.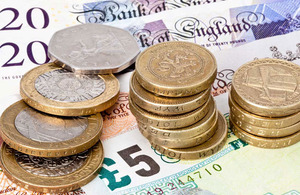 With the Treasury agreeing to set aside an extra £650 million all councils will be able to freeze bills next year - meaning local taxpayers living in an average Band D home in England could save up to £70.
This honours the Coalition Agreement to freeze Council Tax and comes despite tough fiscal decisions being taken in the Spending Review.
Council Tax has more than doubled since 1997 and ministers believe that a freeze will offer real help to hard working families and those on fixed incomes such as pensioners.
Communities and Local Government Secretary of State, Eric Pickles, said:
"Hard working families and pensioners have seen their council tax bills more than double since 1997. But the new government is standing up for hard-pressed local residents, providing special funding to help councils freeze their bills next year. Further financial freedoms announced for councils will mean they can better protect frontline services like rubbish collections and care for the elderly.
"The new government has already stopped the council tax revaluation which would have lead to higher council tax bills over this Parliament for many families. And we will give local residents a new power to veto excessive council tax rises in the future, to protect the interests of local communities and strengthen local democracy."
Scotland has benefited from a Council Tax freeze for a number of years, without adversely affecting frontline services, and in this time the average bill in England has risen so that an equivalent Band D home now pays £290 a year more than that north of the border.
A new grant scheme will be open to all billing and major precepting authorities, including police and fire authorities, which decide to freeze or reduce their Council Tax next year. If they do, they will receive additional funding in 2011 to 2012, equivalent to raising their 2010 to 2011 council tax by 2.5%.
The Spending Review also commits to providing authorities with additional funding in future years to 'lock in' the benefits of the one year freeze and help ensure council tax payers will not face subsequent excessive increases.
Published 21 October 2010