Cost-saving measures to boost help for world's poor
International Development Secretary Andrew Mitchell announced further cash-saving measures as part of an ongoing drive to get value for money out of the Government's aid budget.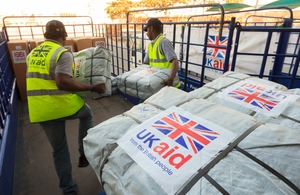 The savings include:
Scrapping the £6.5m Global Development Engagement Fund, a scheme aimed at community groups - ranging from gardening clubs and adventure camps to toddler groups and amateur performing artists - for projects on 'development awareness-raising' in the UK;
Calling time on 15 schemes judged to have been failing for up to two years, with the savings redirected to work that will have a far greater impact on poverty reduction;
Renting out two floors of DFID's Palace Street office, providing a total income of over £2m, and reductions in corporate services, such as HR and IT, will also save the department £5m per year; and,
Reductions in business class flights saving £1.2m.
Speaking in the House of Commons today, Mr Mitchell said that DFID had a double duty to British taxpayers to ensure that every pound spent contributed to reducing global poverty.
Money saved from these projects would be redirected into priority areas such as improving the health of mothers and children and the fight against diseases such as malaria and polio.
The International Development Secretary said that projects such as Global Development Engagement Funding risked the credibility of international aid by not showing a clear link between funding and poverty reduction.
Mr Mitchell said:
It is vital that people know that money from the British aid budget is being spent where it makes the maximum impact.

Today, I am putting a stop to projects that have been assessed to be failing to provide that impact and will redirect this aid to where it will make the most difference.

I want to be clear with taxpayers - British money makes an enormous difference to the world's poorest people and I will be stubbornly focused on getting value for money from every penny.
Published 5 July 2010