News story
CoRWM Visits Sweden
Sweden visit for CoRWM members to see how they deal with their radioactive waste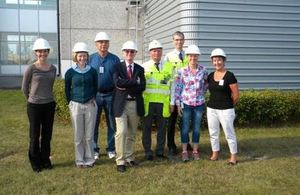 CoRWM members visited Sweden in September to find out how they deal with their radioactive waste. They met with representatives of the Ministry for the Environment, the Swedish Radiation Safety Authority (SSM), the Swedish Nuclear Fuel and Waste Management Company – (SKB) and the Swedish National Council for Nuclear Waste.
Members went on a tour of the final repository for short-lived radioactive waste (SFR). The visit has enabled CoRWM to gain an understanding of the way in which Sweden manages its radioactive waste which they can use as a reference when giving advice to the UK government and the Devolved Administrations.
CoRWM gained specific information on how the safety case has been compiled for the Spent Fuel Repository (SFR), the way in which it will be licensed, and the way in which the government, the regulator and SKB work with the host communities.
Published 8 October 2013