News story
CoRWM Public Meeting in Thurso
CoRWM is holding a public meeting in Thurso on 1st July 2014. Come along to meet the Committee and have your questions answered about the management of Higher Activity Radioactive Waste in Scotland.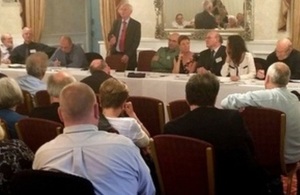 The Committee on Radioactive Waste Management (CoRWM), will be hosting a public meeting on Tuesday 1st July in Thurso. CoRWM scrutinises the implementation of the UK Government and the Devolved Administrations' policies for management of nuclear High Activity Waste and also the waste policies of the Nuclear Decommissioning Authority (NDA).
The UK Government favour a policy of disposal in a deep Geological Disposal Facility (GDF) whilst the Scottish Government's policy favours storage and disposal of waste in a near-surface, near-site facility.
Members of the Committee have a wide range of knowledge and experience of nuclear waste management issues so use this opportunity not only to let CoRWM know your views on the subject but also to ask them any questions on topics that may concern you.
The meeting will be held at the Park Hotel, Thurso, Caithness KW14 8RE from 18:30 to 20:00.
CoRWM will also be holding a plenary meeting on 2nd July at 9:30 to 14:00 at the same venue. Members of the public are welcome to observe the meeting.
You can register to attend the public meeting or the plenary by email contact:corwm@decc.gsi.gov.uk (to ensure that we can accommodate you). For more details and our other meetings see our meetings schedule.
Published 17 June 2014
Last updated 20 June 2014
+ show all updates
ammend typo - the 1st of July is a Tuesday and not a Wednesday as originally stated
First published.