News story
CoRWM Chair meets with Welsh Minister
The CoRWM Chair, Professor Laurence Williams and CoRWM member, Professor Lynda Warren met with Alun Davies AM, the Welsh Minister for Natural Resources and Food to discuss the advice that CoRWM provides to the Welsh Government on radioactive waste.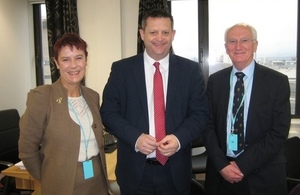 The CoRWM chair, Professor Laurence Williams, met with Alun Davies, Minister for Natural Resources and Food and Welsh Government officials on the 19th February 2014.
The purpose of the meeting was to introduce the Minister to CoRWM and the work that the committee undertakes.
Discussions were held on the CoRWM workplan and how the committee will support the Welsh Government on a review of policy on the disposal of higher activity radioactive waste, should the decision be made to commence such a review.
The CoRWM Chair informed the Minister of their plans to hold a plenary meeting and a meeting with the public at Wylfa in September.
The Committee welcomed the Minister's desire for the Welsh Government to play a positive role in discussions on radioactive waste management in the future.
Published 5 March 2014