Press release
Corporation Tax (Northern Ireland) Bill completes Parliamentary stages
The Secretary of State welcomes the Bill's passage through the Lords and hopes the NI parties will ensure this huge opportunity is not lost.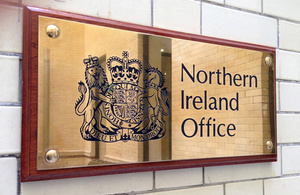 The Secretary of State, Rt Hon Theresa Villiers MP has welcomed the Corporation Tax (Northern Ireland) Bill passing its House of Lords stage today.
She said:
It is fitting that the Corporation Tax Bill has passed through the House of Lords today, on St Patricks Day. This represents completion of the Bill's Parliamentary Stages and is a significant milestone on the journey to devolve corporation tax setting powers to Northern Ireland.
Passing this legislation was one of the UK Government's key commitments from the Stormont House Agreement and provides the evidence that we will deliver on our obligations.
Since 2010 this Government and the Executive have worked toward the shared goal of rebalancing the Northern Ireland economy, away from an over-reliance on the public sector and toward a more prosperous, successful economy. The Executive recognise the benefits a devolved corporation tax rate could bring to the local economy. They have estimated that some 40,000 jobs could be created and an additional 10% in output could be realised.
The new tax-setting powers will only be commenced if the Executive parties put their finances on a long-term sustainable footing. Changes to the welfare system are a key part of this. I hope the parties will continue to work hard to resolve current issues and ensure this enormous opportunity is not lost.
Published 17 March 2015