Cornish pasties can't be pirated
Cornish pasties have won official recognition protection under the EU protected food names scheme.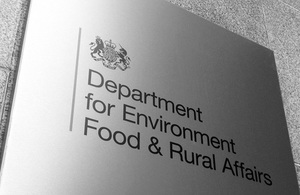 Cornish pasties have won official recognition protection under the EU protected food names scheme, Food Minister Jim Paice announced today.
After 200 years of being handed down from generation to generation, often by word of mouth, the recipe for Cornish pasties will be officially protected across Europe. A genuine Cornish pasty will need to contain chunks of beef, potato, onion and swede (or turnip, as it's called in Cornwall), all encased in the famous D-shaped crust.
The award of Protected Geographic Indication status means the pasties can only be made in Cornwall, and only pasties meeting the registered specification will be able to carry the name 'Cornish Pasty' on their label. 
Even the traditional design of pasties tells the story of their history. The shape of the pasty meant tin miners in Cornwall could use the crimped crust as a handle, which they threw away afterwards, to protect them from eating the arsenic found in tin dust.
Cornish Pasties join 42 other British foods who have been awarded special protection and status throughout Europe, bringing them into the ranks of food and drink including Champagne and Parma ham.
Cornish Pasties are the third Cornish product to gain Protected Food Name status, joining Cornish Sardines, Clotted Cream and West Country Farmhouse Cheddar. 
Mr Paice said:
"The Cornish pasty has to be one of our most loved and iconic foods - it's recognised the world over. And now when people eat a Cornish pasty, they'll know it's been made in Cornwall to a recipe that's been around for centuries.
"We've been supporting the pasty application through the system to get European protection, so I'm delighted to announce that it's cleared the final hurdle."
Defra has worked closely with the Cornish Pasty Association to achieve European protection.
The production of Cornish pasties makes a significant contribution to the Cornish economy. It is estimated that some 13,000 people are directly and indirectly benefiting from the trade.
Notes
Further details about Cornish Pasties can be found at Defra's protected food names web pages.
Defra work closely with ADAS, (the delivery body responsible for dealing with the administration of the scheme) and a wide range of other organisation to raise awareness of the Protected Food Name (PFN) scheme and encourage more applications.
The EU Protected Food Name scheme came into force in 1993.  It provides for a system for the protection of food names on a geographical or traditional recipe basis.   The designations are Protected Designation of Origin (PDO), Protected Geographical Indication (PGI) and Traditional Speciality Guaranteed (TSG). The scheme highlights regional and traditional foods whose authenticity and origin can be guaranteed.  Under this system a named food or drink registered at a European level will be given legal protection against imitation throughout the EU.
Further information about the EU scheme, together with application forms and guidance notes can be obtained from ADAS on 020 7238 6678, or email: irene.bocchetta@adas.co.uk.
Details of the scheme, including a full list of UK (and other Member States') products covered, can be found on the EU website: http://ec.europa.eu/agriculture/quality/
Forty-three British products now enjoy protection under the scheme including Arbroath Smokies, Cornish Clotted Cream, Melton Mowbray Pork Pies and Welsh Lamb.  There are almost 40 other applications currently in the pipeline to protect various UK products.
Published 22 February 2011