News story
Convictions for lobster pot cocaine plotters
Men who plotted to smuggle high-purity cocaine handed prison sentences totalling 104 years.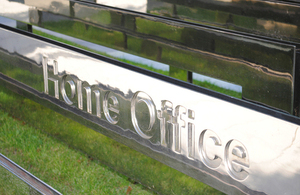 The gang were caught following an extensive investigation which included surveillance onshore and at sea carried out by several law enforcement agencies, including the UK Border Agency.
With accomplices Daniel Payne, Scott Birtwhistle and Croatian Zoran Dresic, lobster fisherman Jamie Green sailed his fishing vessel from Yarmouth on the Isle of Wight into the Channel to retrieve 11 watertight holdalls filled with the drugs.
These had been deposited into the water from a container ship, the MSC Oriane, as it travelled en route to Antwerp from Brazil.
Fishing boat
The four then took the fishing boat, Galwad-Y-Mor, to Freshwater Bay off the coast of the Isle of Wight, where it was tracked by UK Border Agency cutter HMC Vigilant and observed manoeuvring erratically before heading back to Yarmouth.
Green, Payne, and Dresic were arrested later that day, 30 May 2010, at which point Dresic produced fraudulent identification in the name of Veljko Protic.
The following morning, officers from the joint Serious Organised Crime Agency-Metropolitan Police Middle Market Drugs Partnership and UK Border Agency recovered the drugs - worth up to £53m on UK streets - after a report from the local coastguard. Hampshire Police officers had also participated in the surveillance operation.
 
The holdalls had each been tied along a rope in a manner closely resembling that of submerged lobster pots, with a buoy and a makeshift anchor tied to either end to aid its later recovery by the gang.
 
Subsequent investigation led to the arrest in turn of Birtwhistle and Jonathan Beere, who was in regular telephone contact with Green during the drugs run.
 
GPS tracking data was used retrospectively to plot the courses of two ships up to the drugs being collected in the early hours of 30 May.
Fleet of cutters
Carole Upshall, UK Border Agency director for the South and Europe said: 'This case shows the lengths that organised criminals will go to just to bring illegal drugs into the UK. But it also shows how, working together with our law enforcement partners, we will stop at nothing to bring them to justice.
'The UK Border Agency's fleet of cutters patrol the coast 24 hours a day, 365 days a year playing a key role in helping us to secure the border, stopping prohibited goods and people even before they reach our shores.'
Published 2 June 2011