News story
Contract for new Manufacturing Advisory Service signed
The Consortium, compromised of Grant Thornton UK LLP, Pera, WM Manufacturing Consortium Ltd and SWMAS Ltd., was awarded the contract in October…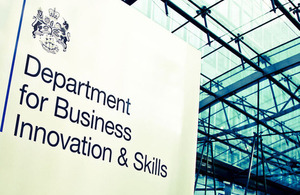 The Consortium, compromised of Grant Thornton UK LLP, Pera, WM Manufacturing Consortium Ltd and SWMAS Ltd., was awarded the contract in October 2011.
The Manufacturing Advisory Service will continue to deliver a service to all manufacturing businesses but the new consortium now means that there will be a specific focus on:
driving business growth through strategic and technical support for SMEs developing Advanced Manufacturing capabilities and creating high value jobs;

enabling business improvement with manufacturers operating in global supply chains; and

linking SMEs with the Apprenticeship programme delivering a minimum of 1,250 engineering and manufacturing apprenticeships annually.
The new service will start on 1 January 2012 and could help create £1.5bn in economic growth, 23,000 jobs and safeguard 50,000 jobs.
Notes to editors
The announcement that the new service will begin on 1 January 2012 fulfils a commitment from Budget 2011 to bring forward the start date of the new national Manufacturing Advisory Service from March 2012 to January 2012.

The quoted figures on growth potential and job creation are based on best practice from four experienced MAS suppliers with innovative strategies to increase client outcomes and reduce costs. The forecast outcomes are based on evidence from past performance and proven capability to replicate and scale best possible outcomes nationally.

BIS's online newsroom contains the latest press notices, speeches, as well as video and images for download. It also features an up to date list of BIS press office contacts. See http://www.bis.gov.uk/newsroom for more information.
Notes to Editors
Contact Information
Name BIS Press Office Job Title
Division COI Phone
Fax
Mobile
Email NDS.BIS@coi.gsi.gov.uk
Name Nick Evans Job Title
Division Department for Business, Innovation and Skills Phone 020 7215 3496 Fax
Mobile
Published 14 December 2011