World news story
Container Profiling course for Bolivian Counter-Narcotics Police
Two UK Border Force instructors trained Bolivian police officials in the control of containers for the detection of illicit drugs.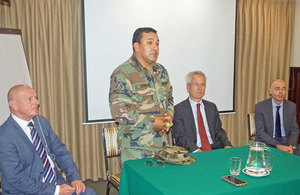 The course was held from 9 to 13 January in La Paz and was conducted by experts Tim Coward and Philip Brackensbury. Twenty officials from Bolivia's Special Force Against Drug Trafficking (FELCN) took part in sessions, which included both theoretical and practical work.
The course was aimed at upskilling the Bolivian police in the profiling and detection of containers carrying illegal drugs, and so stem the flow of illegal drugs to Europe and the UK.
British Ambassador to Bolivia, James Thornton, thanked both participants and trainers, highlighting FELCN's work in the fight against drug trafficking and his willingness to continue promoting joint work between Bolivia and the United Kingdom in this important area.
FELCN's Deputy Commander, Col. Marco Antonio Alvarez, expressed his appreciation to the British Embassy for funding the course:
Bolivia welcomes all countries that want to come and support us in the fight against drug trafficking, as the United Kingdom is doing.
He urged participants to put into practice what they learned during the course and also share that knowledge with their colleagues.
British trainer Tim Coward commended the participants' high level of ability and motivation and said that running the course was also a learning experience for him and his colleague.
Published 1 February 2017