News story
Consumer Focus: appointment of interim Chair
Christine will take up the role when current chair Lord Whitty leaves in December 2010. Edward Davey, Minister for Consumer Affairs, said:…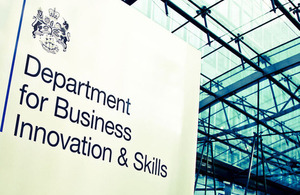 Christine will take up the role when current chair Lord Whitty leaves in December 2010.
Edward Davey, Minister for Consumer Affairs, said:
"I am pleased to appoint Christine Farnish as Interim Chair. She has a strong track record in leadership and excellent knowledge and understanding of consumer affairs. This is a challenging period for Consumer Focus - Christine has an important job managing the changing role of the organisation as we begin our work on the reform of the consumer landscape."
Christine Farnish, who is currently a member of the Consumer Focus Board, said:
"I am delighted to have been chosen to lead Consumer Focus to ensure that we continue our vital work and that we leave behind the strongest possible legacy for consumers. I would like to pay tribute to Lord Whitty for his sterling work as Chair over the last two years. Over the next eighteen months or so, Consumer Focus will continue to deliver real benefits for consumers as we have done in the past."
Christine will lead the organisation during the period in which BIS intends to carry out its reform of the landscape of UK consumer protection bodies. This reform includes proposals to transfer the functions of Consumer Focus to the Citizens Advice service.
Notes to editors:
---
Christine Farnish has served on the Consumer Focus Board since January 2008 and is currently Chair of its Audit and Risk Committee. In her career she has been Consumer Affairs Director at both OFTEL and the FSA and has also held senior management roles in local government. She has served on the Boards of both the OFT and the ASA. She is currently a Non Executive Director on the ABTA Board and also works on public policy for Barclays. Prior to that she served as CEO at the National Association of Pension Funds.

Consumer Focus is the UK's national consumer advocacy body. Formed two years ago by a merger of the National Consumer Council, Postwatch and Energywatch it is a non-departmental body funded by BIS, including levies on the energy and postal sectors. Consumer Focus champions the interests of consumers across England, Wales, Scotland, Northern Ireland (postal matters only).

The Government has carried out a review of the landscape of consumer protection bodies to rationalise their functions and eliminate confusion and duplication, strengthen local delivery, and produce a more effective service for consumers at a lower cost to the taxpayer. The Government will publish a consultation early next year setting out proposals to streamline and transfer the functions of Consumer Focus, and other consumer bodies, to the Citizens Advice service. For details, see BIS Press Notice and Secretary of State Vince Cable's Statement of October 14 here: http://nds.coi.gov.uk/content/Detail.aspx?ReleaseID=415972&NewsAreaID=2
---
BIS' online newsroom contains the latest press notices, speeches, as well as video and images for download. It also features an up to date list of BIS press office contacts. See [http://www.bis.gov.uk/newsroom](http://www.bis.gov.uk/newsroom) for more information.
Notes to Editors
Contact Information
Name BIS Press Office Job Title
Division COI Phone
Fax
Mobile
Email NDS.BIS@coi.gsi.gov.uk
Published 28 October 2010